Lindsey Graham Bets it All on South Carolina, Where He's Polling in 4th Place
The South Carolina senator says there is a 91 percent chance that he will run for president.
by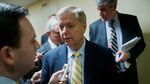 Are the odds really in South Carolina Senator Lindsey Graham's favor?
Citing his chances of winning his home state in the 2016 Republican primary, Graham said there was a "91 percent" chance that he would enter the presidential race
"If I didn't think I could win South Carolina, I wouldn't be talking to you," Graham said on Fox News Sunday. "I just had a primary with six opponents, I won by 41 points. I've been elected numerous times in South Carolina. If I'm on the ballot, I'll win South Carolina."
A Winthrop poll of likely South Carolina voters released last week showed Graham receiving just 7.6 percent of the vote and trailing Wisconsin Governor Scott Walker (13.6 percent), former Florida Governor Jeb Bush (12.7 percent), and Texas Senator Ted Cruz (8.1 percent). 
Even more daunting for Graham, the poll found that 55 percent of those polled in Graham's home state say they would not support the senator if he ran from president. 
At this weekend's First in the Nation Republican Leadership Summit, With All Due Respect host Mark Halperin said Graham used his sense of humor to connect with voters. 
"In full Catskills mode, including the usual Hillary Clinton funnies. This makes him darn likeable, but it hampers his ability to come off as the candidate of strength," Halperin wrote. 
But Graham did not register enough support from voters in New Hampshire to be included in the latest PPP poll in New Hampshire.
"I think I've got a good message," he said. "I've been more right than wrong on foreign policy." 
Before it's here, it's on the Bloomberg Terminal.
LEARN MORE