On Cuba Trip, Andrew Cuomo Says Lifting Trade Embargo Good for Economy
Freeman Klopott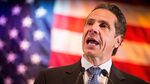 Governor Andrew Cuomo said his trade mission to Cuba with executives from New York-based companies including Pfizer Inc. and MasterCard Inc. will pressure Congress to lift the embargo of the Communist island nation.
Cuomo on Monday will become the first U.S. governor to visit Cuba since President Barack Obama, a fellow Democrat, eased travel restrictions in January. While the president last week moved to take Cuba off the list of terror-sponsoring nations, ending the trade embargo, which is 54 years old, would require an act of the Republican-controlled Congress.
The mission will help take the Cuba debate outside the gridlock of Washington and illustrate the benefits of job creation and societal change that would come from lifting the embargo, Cuomo told reporters aboard the chartered JetBlue Airways Corp. flight. The airline's chief executive officer, Robin Hayes, is among those traveling with the governor.
"It's not just going to be about Mr. Boehner and the president and their political difference," Cuomo said, referring to House Speaker John Boehner. "We've got major business interests saying this could be good for the economy, and that is a different perspective and I think a powerful perspective."
Castro Brothers
Cuomo, 57, said he agrees with Obama that the best way to change Cuba is to engage with President Raul Castro, brother of Fidel, whose 1959 revolution and seizure of property and interests owned by U.S. businesses led to the trade sanctions. By being the first, he said, New York companies will be best positioned to win business as restrictions ease.
While the governor's itinerary doesn't include a visit with either Castro, he is meeting with First Vice President Miguel Diaz-Canel and Cardinal Jaime Lucas Ortega y Alamino on Monday.
The visit may also help Democrats make inroads among the influential Cuban population in the presidential swing state of Florida, where 29 of the 270 electoral votes need to capture the presidency will be up for grabs next year. The party has been seeking to capitalize on a demographic shift that's led more Cuban-Americans to favor ending the embargo. About 300,000 Cuban immigrants have arrived in the U.S. since 1995, and many want the chance to return home to visit families and to send money.
Shifting Allegiance
While Cuban-Americans account for only 3.3 percent of the 54 million Hispanics in the U.S., two-thirds of them live in Florida, according to the Census Bureau. As recently as a decade ago, 64 percent of registered Cuban voters identified themselves as Republicans, compared with 47 percent in 2013, according to the Pew Research Center in Washington.
"Governor Cuomo is showing great interest in leadership," said U.S. Representative Kathy Castor, a Democrat from Tampa, Florida. "Even most Cuban-Americans say change is important here, and if he believes that, when he returns, he'll be able to help deliver that message."
Cuomo is also joined on the trip by MasterCard Vice Chairman Walt M. Macnee, Pfizer Inc. Chief Medical Officer Freda Lewis-Hall and Regeneron Pharmaceuticals Inc. CEO Leonard Schleifer.
U.S. governors have been traveling to post-revolution Cuba since 1999, starting with George Ryan of Illinois. The nine that followed also came largely from states with agricultural products, the only type of trading allowed.
Obama's move to take Cuba off the list of states that sponsor terrorism would allow U.S. banks, many based in New York, to do business with the regime. Obama gave Congress 45 days to respond.
"It makes it easier for the U.S. institutions to reach out to the Cuban government, but the Cuban government still has to say they want this to happen," said John Kavulich, president of the U.S.-Cuba Trade and Economic Council, a New York-based group that promotes business engagement.
Before it's here, it's on the Bloomberg Terminal.
LEARN MORE