Chris Christie, Rick Perry Keeping Hope Alive in the Granite State
Of 17 Republican presidential hopefuls who spoke in Nashua over the weekend, two had more at stake.
by and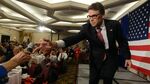 New Hampshire is the early primary state that likes to give second chances. It's where Bill Clinton became the "comeback kid" in 1992 and John McCain rose from a political grave in 2008.
That's why New Jersey Governor Chris Christie and former Texas Governor Rick Perry, positioning themselves for a 2016 White House run, had more at stake at the weekend confab of Republican activists in Nashua than their party's other prospective nominees.
Based on interviews with attendees and Republican operatives at the First in the Nation Republican Leadership conference, the two kept themselves in contention, which means the potential field of Republican hopefuls is unlikely to narrow anytime soon.
Among the 17 presidential hopefuls—running the gamut from a sitting senator who has already made his campaign official (Rubio) to a former governor (New York's George Pataki) who joked that his flirtations with presidential runs come once every four years, just like the Olympics—who addressed an audience of hundreds gathered in the Crowne Place Hotel Ballroom for two days of speechifying, Christie and Perry arguably had the most to prove.
"Christie had been declared dead," said Fran Wendelboe, a former New Hampshire state House member and longtime Republican Party activist. "Obviously he's not dead yet," she added, noting that "he had the biggest turnout" of any of the Friday speakers, including Florida Governor Jeb Bush.
Christie's popularity has cratered in the face of a host of problems: His administration faces potential indictments over the politically motivated closing of traffic lanes near the George Washington Bridge and scrutiny of his state's anemic job growth rate. His blunderbuss speaking style strikes some as bordering on temper tantrums. Perry is trying to reinvent himself after a humiliating flame-out in 2012 that included saying "oops'' when he forgot which of the three federal agencies he'd proposed eliminating during a nationally televised debate.
"Nobody is finished yet. People are still looking for information and they want to make sure we have a candidate that will beat Hillary Clinton,'' said Wendelboe.
Much of the early 2016 action has centered on Iowa, where candidates face their first voting test in caucuses early next year and where social conservatives are likely to select a candidate more representative of the state's evangelical base.
Independent vote
New Hampshire, which holds the nation's first official primary, often provides a counterweight, with an electorate that tends to favor a candidate more likely to win the general election. It is among the states with the lowest percentage of church-going citizens and highest percentage of registered independent voters—voters who take pride in their once-every-four-year role vetting presidential candidates.
"The independents tend to vote there they'll make the biggest difference," said Fergus Cullen, a former state Republican chairman. "That favors are more moderate, establishment mainstream candidate," he said.
According to a Real Clear Politics average of four New Hampshire polls over the past month, Wisconsin Governor Scott Walker is in first place, with Bush second. They are followed, in order, by Kentucky Senator Rand Paul, Texas Senator Ted Cruz, Christie and Florida Senator Marco Rubio.
Walker and Bush probably have the edge because they come from governors' mansions, said Frank Luntz, a Republican pollster who has been holding focus groups with New Hampshire primary voters.
"To my shock, in a state that in the past has voted for senators, these people really want to vote for governors, which makes it tougher for Marco Rubio and Rand Paul," he said, cautioning that those numbers could easily shift. 
"New Hampshire gives people a thorough review and that review goes on and on,'' said Luntz. "These are the most sophisticated voters in America.''
Yet New Hampshire also highlights the work ahead for one former governor: Bush, who is thinking about running for the job that his brother, former President George W. Bush, and father, former President George H.W. Bush, once held.
"Jeb's challenge is to covert some of those voters who might say they dislike him but they're really talking about his brother," said Dante Scala, a political science professor at the University of New Hampshire.
Wedding crashers
Another governor, Wisconsin's Scott Walker, snagged the keynote speaking slot at Saturday night's closing banquet. But it turned out to be a bit of a booby prize: The dinner had to be moved to a much smaller room because the ballroom already had been booked for a wedding: Cruz, the last speaker of the afternoon, was hustled off the dais to make way for the bride and groom. 
Walker briefly chatted with the wedding party, until the swarm of cameras following the Wisconsin governor became too much for the bridegroom. Photographers were waved away as Walker went into his speech.
More than any candidate, Christie's fortunes appear to depend on New Hampshire. That's because his previous support for abortion rights and other socially moderate positions makes his opportunity in Iowa minimal.
Christie has adopted what he acknowledged, in his speech, is a risky strategy: making a campaign centerpiece of his plan to overhaul Social Security by increasing the retirement age and cutting benefits for wealthier seniors.
After his Friday speech, Christie went up the road to Shooter's Pub in Exeter, a sports bar and pool hall that offered a "Christie Cape Cod'' as a one-day drink special. On the way, he met with former Massachusetts Senator Scott Brown, who'd tested the limits of New Hampshire's charity with a 2014 campaign in a brand new state—which he only narrowly lost.
In the pub, Christie endured a long back-and-forth with a voter angry about his Social Security plan, and talked over a man who was booted from the bar after his bar tab hit the limit. Even so, both men told reporters that they were open to supporting Christie, who promised to give many, open town hall forums.
McCain model
History suggests that Christie has reason to be hopeful about New Hampshire. In 2007, former Massachusetts Governor Mitt Romney's campaign watched John McCain's campaign implode, shedding staffers and missing fundraising goals as voter anger swelled at his support for immigration reform.
"He had crumbled, but he never really collapsed in New Hampshire,'' said Ryan Williams, a strategist for Romney's campaigns for governor and president.
"We had McCain supporters calling us in the summer and early fall, saying 'when McCain loses New Hampshire, we're coming on board.' Elected officials, donors, all saying 'we're with you, we're with you.' Then he won,'' said Williams.
McCain's comeback had deeper roots—he won the state in 2000—but it remains a touchstone for candidates who imagine that one more town hall, one more diner visit, will cut through the media's fog.
"When he was fifth in a four-person race, we came up to a VFW with eight guys,'' recalled Senator Lindsey Graham, a South Carolina Republican and McCain confidante now considering his own run. "I saw John carry his own bags, going from town hall meeting to town hall meeting, defending a war that was unpopular.''
McCain went on to win the state and the nomination. The lesson Graham took away was that candidates could absorb any blows, but come to the Granite State and be fairly judged.
 "They will listen to your message regardless of your finances,'' he said. "They don't pre-judge you based on media hype. They actually give you a chance.''
CORRECTION: In an earlier version of this story, the first paragraph should have referred to the 2008 Republican primary in New Hampshire, not the 2000 primary. Also in an earlier version, the sixth paragraph should have referred to lane closures near the George Washington Bridge, not a bridge closure.
(Corrects first graf to refer to 2008 New Hampshire Republican primary and sixth graf to refer to lane closures near the George Washington Bridge.)
Before it's here, it's on the Bloomberg Terminal.
LEARN MORE