U.S. Charges Three Businessmen With Illegal Exports to Iran
Del Quentin Wilber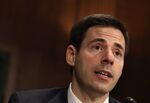 Three U.S.-based businessmen have been charged with participating in a long-running conspiracy to illegally export sensitive electronics to Iran, the Justice Department said Friday.
U.S. authorities allege that the three men and two others worked for an Iranian procurement network that over the past five years evaded U.S. sanctions and licensing systems designed to stop transfers of sophisticated technology. Among the items shipped to Iran, U.S. authorities said, were microelectronics that can be used in surface-to-air and cruise missiles.
Four companies also were charged in the indictment.
"Violations of the International Emergency Economic Powers Act not only can undercut the impact of U.S. sanctions, but can also serve to undermine U.S. foreign policy and adversely affect national security," Assistant Attorney General John Carlin said in a statement.
The charges come after the U.S. and five other world powers reached a preliminary agreement with Iran on April 2 aimed at preventing the Islamic Republic from producing a nuclear weapon in return for lifting economic sanctions.
The 24-count indictment unsealed Friday alleges that Bahram Mechanic, 69, a naturalized U.S. citizen in Houston, led a scheme that exported sophisticated electronics to Iran in violation of U.S. sanctions and export restrictions.
Earlier Investigations
Mechanic was well-aware of such export prohibitions, the indictment says, because the U.S. government has investigated his trading activities at least three times since 1985. Two of those three investigations involved Iran, the indictment says. He was convicted in the 1980s of attempting to export a microwave calibration device without a validated export license, court records show.
Mechanic "utilized his knowledge of the restrictions to devise a sophisticated trans-national network of individuals and companies to mask their activities, evade the restrictions and continue to expand his illegal transactions with Iran," the indictment said.
In just five years, federal prosecutors wrote, Mechanic and his co-conspirators obtained 28 million small computers, microprocessors, electrical devices and parts valued at $24 million and shipped them to Iran through Taiwan and Turkey as part of their lucrative enterprise. Mechanic "significantly profited" from the illegal exports, claiming more than $20 million in assets, the indictment said.
Defense Ministry
The scheme worked this way: Mechanic received a list of goods sought by Faratel, an Iranian company based in Tehran that served companies as well as the Iranian Defense Ministry and the Atomic Energy Organization of Iran.
After receiving an order, Mechanic directed a co-conspirator in Taiwan to purchase the requested items from sources in third countries, and they were subsequently shipped to Iran.
The indictment says that Mechanic is majority owner and chairman of the board of Faratel; he is also majority owner of Houston-based Smart Power Systems Inc., which the indictment describes as Faratel's sister company.
In addition to Mechanic, four other men and four companies were indicted: Tooraj Faridi, 46, a U.S. citizen of Houston; Khosrow Afghahi, 71, a legal U.S. resident in Los Angeles; Arthur Shyu, of Taiwan; and Matin Sadeghi, 54, of Turkey. They face up to 20 years in prison if convicted of violating sanctions laws. The companies were identified as Faratel, Smart Power Systems, Hosoda Taiwan Co. Ltd. and Golsad Istanbul Trading Ltd.
Messages left for Mechanic at Smart Power Systems and his home were not returned.
(An earlier version of this article was corrected to fix the date of the Iran nuclear framework.)
Before it's here, it's on the Bloomberg Terminal.
LEARN MORE