Pataki Labors in New Hampshire, Just Outside the Spotlight
Terrence Dopp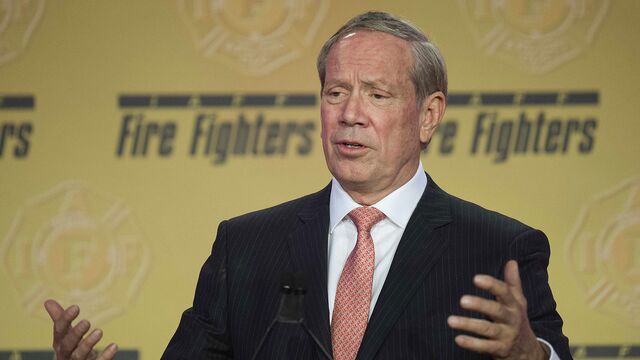 George Pataki, the three-term governor of New York who's twice toyed with presidential politics, hasn't declared himself a candidate for 2016, but he's sure acting like it.
Pataki, a Republican who led the state at the time of the 2001 terrorist attacks on the World Trade Center, said recently he's "leaning toward" a run. He spent Thursday traveling the back roads of New Hampshire and opened a campaign office in Manchester, its most-populous city. On Friday, he's scheduled to address a party summit alongside frontrunners such as Jeb Bush and Marco Rubio in the state that holds the first primary.
Yet Pataki remains just outside the spotlight. During a stop Thursday at a snowmobile dealership, he greeted about 20 would-be supporters under the gaze of just two reporters and a Democratic opposition tracker from the American Bridge political-action committee. As Hillary Clinton grabs headlines for her van trip to Iowa, Pataki roams the Granite State in a gray Mitsubishi Spyder belonging to Alicia Preston, spokeswoman for the We The People, Not Washington PAC he serves as honorary chairman.
"I've been here before with troopers and Suburbans and an entourage," he said as he walked to the car to embark on what he calls the "Scooby Don't Tour," a shot at Clinton. "I like this a lot more."
Three Things
Even he likes to tell The Joke. It goes something like this: Three things happen in four-year cycles; the World Cup; the Olympics and George Pataki comes to New Hampshire.
His third go-around isn't the same as when he came close and didn't pull the trigger in 2008 and 2012, the 69-year-old maintains. America's standing with its allies is torn ragged, Obamacare is the "worst law of my lifetime" and government has grown out of control, Pataki said.
"This time is different -- whether you look at the world situation or what has happened over the last six years, we are at a critical point," he said as he refilled his soda during a lunch stop in Manchester. "That is not American and we need to stop it."
Bush, Rick Perry, Chris Christie and other Republicans seeking the nomination descended on New Hampshire -- home of the first primary in the selection process -- this week to campaign. While others snapped up prime events and traveled with entourages and media packs, yesterday saw Pataki begin the day with a breakfast roundtable in Sandbornville then attend a luncheon at H.K. Powersports on Lake Winnipesaukee.
Linens, Motorbikes
At the Laconia event, where organizers adorned three tables with blue-checked tablecloths on a showroom floor full of ATVs, motorcycles and snowmobiles, Pataki shook hands and spoke to supporters for about an hour.
On immigration, he said he favors securing borders, followed by a pathway to some form of legalization and finally penalties that he said could include a mandatory 200 hours of community service. Asked about Islamic State and the U.S. role in foreign policy, he said President Barack Obama, along with Clinton and Secretary of State John Kerry, has presided over a "world on fire through weakness."
He said he isn't fazed by the lack of attention.
Burritos, Digs
Over a chicken burrito hours later at a Manchester Chipotle, Pataki made sure -- unlike Clinton -- that he was known. He introduced himself to about 10 patrons and went behind the counter to introduce himself and pose with workers. He dropped $5 in the tip jar in a dig at Clinton, who wore dark sunglasses and didn't leave a tip when she visited a Chipotle in Iowa.
"It's just a question of meeting people and letting them know your views and your concept of how you can lead the country on a better path," he said when asked about closing the gaps in funding and visibility. "I think this is the best type of politics."
After ordering his meal with his wife, Libby, Pataki sat next to 27-year-old Jacen Pagliacci, a green-haired job seeker waiting for an interview. He later moved to a higher table where co-workers Tony Coutee and Jason Soto of Derry were sitting.
"He just walked into a random Chipotle and sat down," said Soto, 35, a flagman on a crane crew. "Now that this happened I'm going to have to look him up and find out more."
Before it's here, it's on the Bloomberg Terminal.
LEARN MORE