Obama Sidesteps Iran Sanctions Timeline to Focus on Snapback
Toluse Olorunnipa and Margaret Talev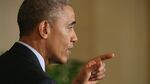 President Barack Obama left open the possibility of negotiators lifting most sanctions against Iran at the start of a final nuclear deal -- rather than in phases -- so long as sanctions could be reimposed quickly if Iran violates its end of the deal.
Obama, at a news conference with Italian Prime Minister Matteo Renzi at the White House on Friday, was asked if he would explicitly rule out signing a final deal unless sanctions are phased out. He said that achieving a deal will require "some creative negotiations," and that he didn't want to "get out ahead" of Secretary of State John Kerry and other U.S. officials working toward a June 30 deadline for an accord.
"Our main concern here is making sure that if Iran doesn't abide by its agreement, that we don't have to jump through a whole bunch of hoops in order to reinstate sanctions," Obama said. "How sanctions are lessened, how we snap back sanctions if there's a violation, there are a lot of different mechanisms and ways to do that."
Negotiators' challenge is "to sometimes find formulas that get to our main concerns while allowing the other side to make a presentation to their body politic that is more acceptable."
Obama's remarks on one of the main sticking points in negotiations over Iran's nuclear program come about a week after Iran's Supreme Leader Ayatollah Ali Khamenei said all sanctions against his country must be lifted as soon as the accord is signed.
Obama Critics
While Obama's response may keep Iranian negotiators at the table, it also may stiffen opposition to any deal from pro-Israel advocates and critics in Congress whose push for tougher sanctions have been put on hold during the talks.
Mark Dubowitz, executive director of the Foundation for Defense of Democracies, who has advised U.S lawmakers writing sanctions legislation, said Obama's remarks suggest he and European leaders are preparing to suspend sanctions "very early" in the deal's implementation and release billions of dollars in frozen oil assets.
"Obama seems prepared to give massive sanctions relief while making a massive bet on the snapback sanction, which is a highly problematic coercive instrument that will prove unworkable when facing a wall of Russian and Chinese intransigence" at the United Nations Security Council "and human greed in the markets," he said.
Reinstating Sanctions
A White House official, who asked for anonymity to discuss internal deliberations, said Obama hasn't changed his position and was only emphasizing the importance of reinstating sanctions if Iran doesn't abide by the deal.
The White House has previously said it would insist on a gradual easing of sanctions. "There continues to be unanimity of opinion that phased sanctions relief is the most effective way for us to implement this agreement," White House Press Secretary Josh Earnest said Monday.
The U.S. and its negotiating partners -- France, Germany, the U.K., Russia and China -- will be discussing how sanctions against Iran will be eased if there is an accord and how quickly those can be snapped back into place if the Islamic Republic doesn't adhere to the terms.
"That goal can be met," Obama said.
Talks are set to resume next week.
Sanctions Regime
Obama said the U.S. has worked "painstakingly" to build an international sanctions regime and that it's crucial negotiations play out in a way that maintains that unity.
He said a deal in Congress brokered by Republican Senator Bob Corker of Tennessee and Democratic Senator Ben Cardin of Maryland is "a reasonable compromise" to give U.S. lawmakers a voice on the agreement.
The administration had been working to head off lawmakers who have been pressing for the right to approve or reject any deal or impose new sanctions on Iran.
Members of both parties in Congress have expressed concern about the deal, and Israeli Prime Minister Benjamin Netanyahu has urged them to reject it. Obama and other administration officials have warned congressional interference might derail the talks.
A vote in Congress would be required to remove U.S. sanctions on Iran, though Obama could waive enforcement of some or issue orders to allow financial transactions now prohibited under law.
Negotiators from the U.S. and the five other world powers are seeking to complete the details of a framework deal announced April 2 to curb Iran's nuclear program and prevent it from building a nuclear weapon. Those talks have a deadline of June 30, the expiration date for the accord under which the talks are taking place.
Before it's here, it's on the Bloomberg Terminal.
LEARN MORE