Obama Calls Senate Delay in Confirming Lynch 'Embarrassing'
Mike Dorning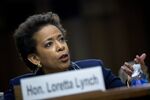 President Barack Obama criticized delays in a Senate confirmation vote on his nominee for U.S. attorney general as embarrassing and accused lawmakers of "political gamesmanship."
Loretta Lynch, 55, who would be the first black woman to serve as the nation's top law enforcement official, was nominated more than five months ago, on Nov. 8.
"It's gone too far," Obama said at a White House news conference with Italian Prime Minister Matteo Renzi on Friday. "Enough, enough," he said. "Let her do her job. This is embarrassing."
Some Republican senators initially delayed a confirmation vote because of opposition to Obama's executive order last year on immigration enforcement. Her confirmation has been delayed for several weeks now as Republican and Democratic senators argue over anti-abortion language in unrelated legislation.
Lynch has support from 51 senators, including all 46 Democrats and five Republicans -- enough to win confirmation if a vote were held.
Obama said Lynch, currently the top federal prosecutor in Brooklyn, has waited longer for a Senate confirmation vote than the last seven attorneys general combined. He called the holdup a "crazy situation."
"Nobody can describe a reason for it beyond political gamesmanship in the Senate on an issue that's completely unrelated to her," the president said.
'Make Progress'
Senate leaders this week reported progress toward scheduling a confirmation vote.
Negotiators are "continuing to make progress" toward a solution to the abortion language in an anti-human trafficking bill, Majority Leader Mitch McConnell of Kentucky said Thursday before adjourning the Senate for the week.
McConnell said he will allow a vote on Lynch's nomination once the Senate passes the legislation. Senate Democratic Leader Harry Reid of Nevada said in an interview for MSNBC's "Rachel Maddow Show" that he would seek to force a vote on Lynch's confirmation if the Senate doesn't act soon.
"I know parliamentary procedure around here and we're going to put up with this for a little while longer but not much," Reid said, according to a transcript released by his office.
Later, on the Senate floor, Reid said, "I am going to serve notice, Ms. Lynch's nomination will not remain in purgatory forever."
Before it's here, it's on the Bloomberg Terminal.
LEARN MORE