Hugh Hewitt Asks Cruz, Santorum If They'd Attend a Gay Wedding
The conservative radio host asked the question after Marco Rubio told Fusion he would attend a gay wedding.
by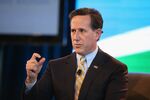 At this rate, we may know the gay-wedding-attendance ideology of every 2016 candidate by the end of the month. One day after Senator Marco Rubio told Fusion he would attend a gay wedding, conservative radio host Hugh Hewitt asked potential presidential candidate Rick Santorum and declared candidate Senator Ted Cruz the same question, in separate interviews. 
Hewitt started by mocking the mainstream media by asking both candidates which question matters more: whether a candidate would attend a gay wedding, or whether he or she would destroy the Islamic State before it "throws hundreds, if not thousands, of gay men to their deaths."
Both choose the latter, and complained about media bias. "There's no doubt it's the latter, but that's part of the gotcha game that the mainstream media plays," Cruz said. With that out of the way, Hewitt turned to the same "gotcha" questioning, and asked him if he'd attend a same-sex wedding.
"Well I would tell you I have not faced that circumstance. I have not had a loved one go to a—have a gay wedding," Cruz said. "At the end of the day, what the media tries to twist the question of marriage into, is they try to twist it into a battle of emotions and personalities." 
He added that the media tries to argue that "anyone who's conservative must hate people who are gay. As you know, that has nothing to do with the operative legal question."
Santorum was more direct. "No, I would not," he said, adding that it would be a violation of his faith. "I would love them and support them, but I would not participate in that ceremony."
Before it's here, it's on the Bloomberg Terminal.
LEARN MORE