Hillary Clinton Reserves Judgment On Trade Deal
Her campaign laid out criteria for all new trade measures, but didn't rule on whether the newest bill from Congress meets them.
by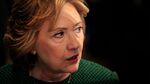 Hillary Clinton's campaign stayed vague Friday when describing her position on the agreement reached by lawmakers on a new trade bill, setting out criteria, but not saying whether the legislation creating a "fast track" toward a deal's approval meets them.
That's in contrast to the strong opposition to any new trade deals that likely rival former Governor Martin O'Malley and some other Democrats share.
"Hillary Clinton believes that any new trade measure has to pass two tests: First, it should put us in a position to protect American workers, raise wages, and create more good jobs at home. Second, it must also strengthen our national security," Clinton spokesman Nick Merrill said in a statement. "We should be willing to walk away from any outcome that falls short of these tests."
President Barack Obama supports the completion of the Trans-Pacific Partnership—for which his administration has worked for years—as do some Senate Democrats, including those who reached an agreement Thursday with congressional Republicans to move forward with a bill to grant trade promotion authority and move quickly to vote on TPP.
Clinton favors "greater prosperity and security for American families, not trade for trade's sake," Merrill added, and will keep close tabs on whether the trade deal does enough to tackle a range of issues including currency manipulation, climate change and labor rights.
Because Clinton served as secretary of state during the first half of the Obama administration, she's closely associated with the negotiation process, even though she hasn't been involved in it for more than two years.
O'Malley has made clear that he opposes TPP and said in an e-mail to supporters, sent within minutes of the release of Merrill's statement, that he opposes moving ahead on the "fast track" with TPP, saying that authority would deny Congress the ability to amend yet another bad trade deal.
"We must stop entering into bad trade deals that hurt middle-class wages and ship middle-class jobs overseas," he said. "And we certainly shouldn't be fast-tracking failed deals."
In a nudge at the vague Clinton statement, O'Malley adviser Lis Smith wrote on Twitter that her boss "continues to *lead* on critical issues."
Perhaps anticipating criticism from the left, the Clinton statement closes by noting that "as she warned in her book, Hard Choices, we shouldn't be giving special rights to corporations at the expense of workers and consumers."
Before it's here, it's on the Bloomberg Terminal.
LEARN MORE