Bush 'Thinks' It's Possible to Stay Friends With Rubio
The campaign is already straining their friendship.
by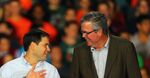 MANCHESTER, New Hampshire—Former Florida Governor Jeb Bush gave a chilly response to a question on Friday asking his thoughts about potentially competing for the Republican presidential nomination against U.S. Senator Marco Rubio, who lives just a couple miles away in Miami.
"He's a good, close friend, and it is what it is," Bush told reporters after meeting voters at St. Anselm College's New Hampshire Institute of Politics. "One of my objectives would be to maintain the friendships I have with the people that may be aspiring to the same thing. I think it's possible."
Bush was governor as Rubio was just beginning his career in politics, first as a West Miami city commissioner and then in the Florida House of Representatives. The two have both said that they'll try to remain friends, but the subtle jabs have already started.
Rubio, who is one of his party's most talented public speakers, announced his presidential campaign this week by implicitly drawing a contrast with Bush, saying America needed to reject "the leaders and ideas of the past" and that he would not "wait my turn." On Friday, Bush talked about the billions in tax cuts and thousands of state government jobs shed during his eight years in office, saying he got to apply conservative principles as governor and "not just talk about them."
Later on Friday, Rubio was asked if Bush was a candidate of "yesterday." The 43-year-old refused to say yes or no. "It's not about biological age, or how long someone's been in politics," Rubio said. "It has more to do with the age of your ideas: Do you have ideas to move America into the 21st century? Jeb, if he announces for president, he's going to be a very strong candidate. I imagine he'll put forth a policy agenda that outlines his position on various issues. And then we can make that judgment, as voters will make that judgment."
The two were so close at one point that Bush, 62, gave Rubio a ceremonial sword in 2005 to commemorate Rubio's elevation to speaker of the Florida House of Representatives. Asked where that sword is today, Rubio laughed and called it a "great question." "We have it," Rubio said. "I have it somewhere at home. I have young kids. I don't want them running around with a sword."
Bush and Rubio are among several Republican presidential candidates and potential candidates in New Hampshire this weekend to speak to voters at the "First in the Nation Republican Leadership Summit." The event's name refers to the state's status of holding the first presidential primary every four years.
At the "Politics and Eggs" event at St. Anselm, Bush criticized the Dodd-Frank Act, saying that it has stifled community banks and may be creating more risk in the financial system. Bush said that new regulations are supposed to mitigate risks, "but it doesn't look that way to me."
"What they've done, because they have no clue how the real world works," Bush said about the federal government, "is they've seen the consolidation of assets in larger and larger banks and the systemic risk is probably actually larger."
Bush put the blame on bureaucrats implementing the act, and called for a review of the rule-making process. 
"You've got political hacks combined with academics," Bush said. "It's like a cocktail for disaster. You get a hangover every time you put those two together." 
Before it's here, it's on the Bloomberg Terminal.
LEARN MORE