Breaking Down the Next Big Political Fight on Obama's Trade Deals
Why don't Democrats want to make it easier for Obama to get his trade deals approved?
by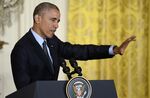 In a rare turn of events, liberal Democrats are blocking an aspect of President Obama's legacy, while Republicans are working to make his job a little easier.
On Thursday, Congress announced it has reached a deal on a bill that would make it easier for trade deals, including the Trans-Pacific Partnership with Japan and 10 other countries, to pass. Here's what you need to know about bill, and what happens next. 
What does this bill do?
For the last several years the Obama administration has been working on the Trans-Pacific Partnership, a free trade agreement between the U.S., Japan, Australia, Brunei, Canada, Chile, Malaysia, Mexico, New Zealand, Peru, Singapore, and Vietnam, and a similar agreement with Europe. Under the bill 1 The Bipartisan Congressional Trade Priorities and Accountability Act of 2015, available here.   introduced on Thursday, the administration would have trade promotion authority, meaning Congress wouldn't be able to amend any trade agreements. That will come in handy when the administration finalizes its trade agreements—other countries will be hesitant to finalize a deal with the U.S. if Congress has the power to dismantle it.
Fast-tracking Obama's trade deals has been a point of contention among both parties in Congress, mainly because legislators don't actually know what's in the Pacific agreement. The bill addresses that by requiring the administration to be more transparent about the terms of the Pacific agreement and publicly release trade agreements 60 days before the president signs them. It also includes provisions to protect human rights, the environment, and laborers. Finally, the bill will coincide with a trade adjustment assistance bill to help manufacturing and service workers whose jobs are the casualties of expanded global trade.
Who is behind the bill?
Senator Orrin Hatch, a Utah Republican and the chairman of the Senate Finance committee; Senator Ron Wyden, an Oregon Democrat and the committee's ranking Democrat; and Representative Paul Ryan, a Wisconsin Republican and chairman of the House Ways and Means committee. As a Democrat, Wyden's support has been especially important, and he's faced pressure from liberal groups to abandon his support for an agreement. 
What are the criticisms against the Pacific agreement?
In general, Democrats tend to argue that free trade agreements turn out better for large corporations than for workers, and that the agreements weaken U.S. protections and regulations. Leaked versions of the trade agreement, which detailed controversial sections on environmental protections and how foreign companies can sue the U.S. government (through international tribunals, with payouts funded by taxpayers), haven't helped the administration's case.
The agreement and the fast track legislation have faced opposition from several high profile Democrats, including Senator Elizabeth Warren of Massachusetts, Senate Minority Leader Harry Reid—who flat out rejected the idea of fast track legislation—and his presumed successor Senator Chuck Schumer of New York, who said Thursday that he "doesn't believe" in free trade agreements anymore.
What's Obama's argument for the agreement?
For the president, expanded trade with Asia is a key part of his "Asia pivot" and also his foreign policy legacy. He has also argued that trade deals will help the U.S. stay competitive against China. During his 2015 State of the Union he said that U.S. businesses need to export more goods abroad, but "as we speak, China wants to write the rules for the world's fastest-growing region," putting the U.S. at a disadvantage. 
What do Democrats think of the bill?
On Wednesday Warren, along with Vermont Independent Senator Bernie Sanders and hundreds of environmental and labor activists, protested the fast track legislation on the Capitol Hill. "Workers have to fight back. I'm proud to be with you and I'm going to be with you all the way," Warren said. 
Senate Democrats are upset that they were given short notice about the introduction of the bill on Thursday, and want more time to consider it. "I have great concerns that this is fast-tracking 'fast track,'" Democratic Ohio Senator Sherrod Brown, and opponent of the trade agreement, told National Journal. "I am hopeful that the chairman will actually listen to what members said and the ranking member will fight for us to get enough time to actually discuss." Hatch has said the finance committee will consider the bill next week. 
House Democrats on the Ways and Means committee released a statement calling the bill "a step back on TPP negotiations" that "gives up Congressional leverage at the exact wrong time."
Obama, however, is "pleased" with the bill, as he said in a statement. He continued:
My top priority in any trade negotiation is expanding opportunity for hardworking Americans.  It's no secret that past trade deals haven't always lived up to their promise, and that's why I will only sign my name to an agreement that helps ordinary Americans get ahead.
What's the reaction from Republicans leadership?
In a statement Speaker John Boehner said he's pleased with the bill, and now it's up to Obama to make it happen:
While this agreement is good news, there is much work still to be done. In the House, Republicans stand ready to work with President Obama to advance TPA but he must secure the support from his own party that's needed to ensure strong, bipartisan passage.
Senate Majority Leader Mitch McConnell said he hopes to bring the bill to the floor "in the very near future."
What does this mean for Hillary Clinton?
As Hillary Clinton's presidential campaign continues, people will want to know whether she's with Warren or Obama. As The Guardian put it, "Hillary Clinton could find herself caught between a rock (a desire to back Obama and some big business) and a hard place (her union backers and many progressives)." Liberal magazines like The Nation are already urging her to come out against fast track, and Sanders put out a statement calling on Clinton and other 2016 hopefuls to reject the "job-killing trade deal." Former Maryland Governor Martin O'Malley, who is considering running for president on Clinton's left, has come out against the Pacific deal and fast track:
On Friday, her campaign released this statement on the issue, which didn't address TPA directly, just individual trade agreements: "Hillary Clinton believes that any new trade measure has to pass two tests: First, it should put us in a position to protect American workers, raise wages and create more good jobs at home. Second, it must also strengthen our national security. We should be willing to walk away from any outcome that falls short of these tests. The goal is greater prosperity and security for American families, not trade for trade's sake. She will be watching closely to see what is being done to crack down on currency manipulation, improve labor rights, protect the environment and health, promote transparency, and open new opportunities for our small businesses to export overseas. As she warned in her book, Hard Choices, we shouldn't be giving special rights to corporations at the expense of workers and consumers."
Before it's here, it's on the Bloomberg Terminal.
LEARN MORE