Scandal Fatigue Hits Albany as New Accusations Swirl in New York
Freeman Klopott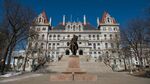 No sooner did one ethics mess recede into recent history than another appear in New York's embattled capital.
The latest gut-punch to Albany arrived via a report late Wednesday that a federal grand jury was reviewing evidence against Senate Majority Leader Dean Skelos, a Long Island Republican, and his son.
Only 12 weeks earlier, the U.S. attorney in Manhattan filed corruption charges against Assembly Speaker Sheldon Silver that led to his resignation after two decades in the post.
The Skelos and Silver probes are the latest in a long line. Three of the past four Senate leaders have been indicted, Eliot Spitzer resigned as governor after becoming entangled in a prostitution investigation and a comptroller was caught taking kickbacks for pension investments. Dozens of rank-and-file members have been arrested over the past decade, including three in a span of five weeks in 2013.
"I would like to get reform fatigue as opposed to scandal fatigue," said Blair Horner, legislative director for the New York Public Interest Research Group, which promotes transparency in government.
What happens next is largely up to U.S. Attorney Preet Bharara, who brought the case against Silver and, according to the New York Times, is probing Skelos.
Bharara has been probing members of the legislature and Democratic Governor Andrew Cuomo's administration since March 2014, when the governor shut down an anti-corruption panel known as a Moreland Commission. After it disbanded, the commission turned over its work to Bharara.
In the state budget passed last month after Silver's arrest, Cuomo made a priority of greater disclosure about lawmakers' income.
Not Enough
That accord was panned by Attorney General Eric Schneiderman and government watchdogs, including Horner's group, who said it didn't go far enough. When it comes to ethics changes, the governor and lawmakers seem to respond only to scandal, rather than taking an aggressive approach to rooting out corruption, Horner said.
"The U.S. attorney is driving the ethics-reform train, and the question is if he'll be making a stop that will have an impact on reform action or he just keeps on going," Horner said in an interview in Albany.
The Times story said the investigation is seeking to determine whether Dean Skelos exerted influence in matters involving AbTech Industries, an Arizona company that hired Adam Skelos. He is also said to be looking into Glenwood Management, a politically influential real estate developer that has had ties to AbTech.
Vowing Cooperation
Neither Skelos has been accused of wrongdoing. Jim Margolin, a spokesman for Bharara, and FBI spokesman J. Peter Donald in New York declined to comment on the probe.
"I have and will continue to cooperate with any inquiry," Dean Skelos, 67, said Thursday in a statement.
During budget negotiations, Skelos, who earned between $150,000 and $250,000 in 2013 as an attorney for the Long Island law firm Ruskin Moscou Faltischek, designated a group of fellow Republicans to negotiate the ethics proposal with Cuomo. In January, WNBC-TV in New York City reported that federal authorities were probing his outside income.
'Long Tentacles'
That report came a week after Silver was arrested on charges that he ran kickback schemes netting almost $4 million over 15 years. Silver, who says he'll be exonerated, didn't step down until he was arrested, and his colleagues issued him an ultimatum.
Just two weeks earlier, despite reports that Bharara was investigating him for corruption, Assembly Democrats had re-elected him as speaker.
Under similar circumstances now, there's no reason for Skelos to step down, said Barbara Bartoletti, legislative director for New York's League of Women Voters.
"There is a presumption of innocence, and we should at least wait until federal authorities have finished with their investigation," Bartoletti said by phone. "We should all just be aware that the culture of corruption in Albany has very long tentacles."
About 90 percent of state voters say graft in Albany is a serious problem, said Steven Greenberg, a pollster for Siena College in Loudonville. Even so, a March poll showed that New Yorkers cared more about the budget being on time than they did about Cuomo's efforts to clean up the capital.
"Voters are not sure that simple reforms will make the process better," Greenberg said. "There's a sense out there that there are laws in place and lawmakers keep breaking them. Make new rules and lawmakers will break those, too."
Before it's here, it's on the Bloomberg Terminal.
LEARN MORE