Rick Perry: America Needs a 'Grizzled Captain,' Not a 'Young, Inexperienced Senator'
The former Texas governor makes the best of a giant press pool in a state where he's polling in the low single digits.
by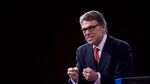 NASHUA, N.H.—The more eye-rolling analyses of Hillary Clinton's maiden Iowa voyage have focused on the crush of reporters chasing her. In Monticello, the 22 "everyday Americans" invited to talk to the former Secretary of State were outnumbered by "dozens" of reporters. MSNBC's footage of reporters chasing Clinton's "scooby van" has turned into flypaper for memes.
Yet Hillary Clinton is not the only candidate who can overwhelm a room of voters. Today in Nashua, former Texas Governor Rick Perry sat for a roundtable with a dozen local businessmen. One, Pete Silva, was also a Republican state legislator who intended to endorse Perry. On the other side of a long table: Fifteen reporters or trackers, recording every move by a man currently polling at 2.3 percent in New Hampshire's Republican primary. (That's an improvement from 2012, when Perry won just 0.7 percent of the vote.) Two cameramen followed Perry as he piled cold cuts and a roll onto a plate and took his seat at the Nashua Country Club.
Perry was benefiting from two factors—the "comeback kid" narrative and the surge of reporters hitting New Hampshire to cover this weekend's First In The Nation GOP summit. He was in his comfort zone, a forum where he could free-associate about what Texas had done right and discuss how much he loved running for president.
"It's not unlike running for county sheriff," said Perry. "It's kind of like buying a used car. You look under the hood, you know—show me the Car Fax!"
The business leaders, organized by local BMW dealer Jack Tulley, asked Perry friendly questions that always led him back to Texas, whether it was the solution to health insurance costs ("massive major tort reform"), or tests of executive experience ("There's not a manual that somebody gives you that says here's how to handle a space shuttle falling out of the sky.") Asked about the cost of college tuition and the crush of student debt, Perry suggested that the culprit was government intervention.
"We made a huge error when we decoupled it from the private sector," he said. "When universities saw that, they were kind of like—we can raise tuition as high as we want."

Asked how he could bring the parties together, Perry said at first that Barack Obama hadn't.
"Correct me if I'm wrong," said Perry, "but the president has never been in a situation where he had to reach across the aisle."* Perry, who had worked with a Republican legislature during his terms in Austin, cited prison reform as his major nonpartisan coup. "We've closed through prisons and we've saved multiple lives—and we were destroying kids lives."
After the event, Time's Zeke Miller asked Perry if any of his criticism of Obama, a first-time senator upon his 2008 election, was a shot at the only declared Republican candidates for president. Perry insisted that Rand Paul, Ted Cruz, and Marco Rubio were all "smart." Then he explained why they might be incompetent. 
"When you walk off the Senate floor, you walk off the Senate floor," said Perry. "You don't walk away from things when you're governor. You have to deal with things. I humorously tell people, I say: If you're flying from Boston to London, do you want to fly with someone that gives a heck of a good presentation on aerodynamics, why the airplane stays in the air—I mean, have you on the edge of your seat with excitement? But they have 150 hours of flying time? Or do you go with the grizzled old 20,000 hour captain who's taken that airplane back and forth thousands of times safely? That's the juxtaposition of the young, inexperienced senator versus a skilled experience executive."
Yet when asked if he worried candidate age might become an issue in 2016, Perry meandered toward an answer, appearing to quote someone for a comment that was not especially quotable.
"I'm just filling out my Medicare card program," he said, "so I hope they don't hold my age against me."
The dozen Republicans who'd come to meet Perry and politely talk to him were impressed. Silva still saw in Perry the candidate he endorsed in 2011, the one who was ready to beat Barack Obama.
"I asked him: Can you get into the smashmouth politics with this president, when people who criticize him get called racist? And he leaned across the table and said, 'Ask Kay Bailey Hutchison if I can do smashmouth.'"
*In most of his legislative career—from 1997 through 2002 in Illinois, and from 2005 through 2006 in Washington—Obama was a Democratic senator serving in a Republican-run legislature.
Before it's here, it's on the Bloomberg Terminal.
LEARN MORE