Nancy Pelosi Not Wild About Lincoln Chafee's Presidential Candidacy
The former Rhode Island governor has stated that any presidential candidate who voted to authorize the Iraq War should be disqualified from being elected.
by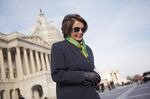 House Democratic Leader Nancy Pelosi today poked fun at the possibility that former Rhode Island Governor Lincoln Chafee, a Republican turned independent, might be a candidate for the Democratic presidential nomination.
Pelosi engaged in the political raillery when a reporter asked her about Chafee's contention that any candidate who voted to authorize the Iraq war should be politically disqualified from being elected president prefaced his question with the phrase "speaking of candidates running for president.''
"Lincoln, of course,'' Pelosi said after the reporter mentioned Chafee, the former governor and ex-senator announced he is exploring the possibility of seeking the Democratic presidential nomination.
"Why did I not think that was going to be the first name out of your mouth?'' she said playfully, once the reporter had finished his question.
Pelosi publicly opposed the war when Congress was debating the resolution authorizing President George W. Bush to invade Iraq.  Still, Pelosi said that she doesn't think Clinton's vote disqualifies her to be president. "That was then, this is now,'' Pelosi said. Despite that vote, Clinton "will be among the best prepared to serve as president."
Before it's here, it's on the Bloomberg Terminal.
LEARN MORE