Marco Rubio Tries to Find the Middle Ground on Same-Sex Marriage
The Florida Republican tried to soften his tone after getting called the "candidate of yesterday" on CNN.
by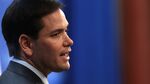 When it comes to same-sex marriage, Marco Rubio is trying to stake out a position somewhere between Hillary Clinton and Ted Cruz. 
A day after being called the "candidate of yesterday" by CNN's Jake Tapper over his opposition to same-sex marriage during a CNN interview, Rubio told Fusion's Jorge Ramos on Wednesday that he would participate in a gay wedding involving someone he loves. At the same time, he called homosexuality a choice and compared a gay wedding to a divorcee's second marriage 
"I'm a member of the Catholic faith," the Florida senator said. "It teaches that marriages—after you get married the first time, if you've been divorced you can't be remarried, and yet people attend second marriages all the time." Rubio, who has said he believes marriage should only be between a man and a woman, told Ramos he wouldn't hurt someone he loved "because of a choice they've made, or a decision they've made."
Still, Rubio's comments place him somewhere in the middle of the 2016 presidential candidate marriage debate, with Cruz on his right and Clinton on his left. Unlike Clinton, who announced Wednesday that she hopes the Supreme Court rules in favor of same-sex couples this term, Rubio argued that marriage laws should be decided by the states. "If people want to change the definition of marriage, they should petition their state legislature and have that debate in a political arena," Rubio told Ramos. "Who I don't think should be redefining marriage is the court system."
At the same time, he currently doesn't support Cruz's position that the country needs a constitutional amendment banning gay marriage, and on Tuesday he told MSNBC that he's "never supported a federal constitutional amendment on marriage."
But even that statement proved to be controversial—the Christian Coalition, a conservative religious group, told MSNBC that Rubio supported the federal amendment when he filed out their candidate issues survey in 2010. According to MSNBC, a Rubio spokesperson said "she had no explanation for the voter guide's conclusion but reaffirmed that Rubio 'never supported the FMA.'"
Before it's here, it's on the Bloomberg Terminal.
LEARN MORE