Lincoln Chafee Accidentally Declared That He's Running for President
A spokeswoman for Chafee later declared that he's still exploring a run.
by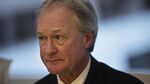 Somewhere out there an aide to former Rhode Island Governor Lincoln Chafee is hoping the Federal Election Commission doesn't watch CNN.
During a Thursday appearance on CNN's "New Day," Chafee, the Republican-turned-independent-turned-potential Democratic presidential candidate said he was running and called himself an "underdog."
Chafee was asked why, out of all the undeclared Democrats in the race, he was the hitting Clinton the hardest. "Yes, that's why I'm running. Because I feel strong about where we're going as a country," he said. He went on to criticize her record as secretary of state. 
Debbie Rich, Chafee spokesperson, later contacted CNN to clarify that no, actually, he's not running. "We are still in the exploratory committee phase," Rich told CNN. "We will file the proper papers to be an official candidate, but that has not happened yet."
Chafee announced his exploratory committee in a video last week, in which he criticized Republicans and praised President Obama. 
The distinction is important—individuals who are exploring a presidential run and people who call themselves candidates are subject to different FEC rules. Last months two groups filed FEC complaints against Jeb Bush, Martin O'Malley, Rick Santorum and Scott Walker for violating campaign registration and donation disclosure rules. 
During the interview, Chafee hit Clinton on her vote for the Iraq war and some of her gaffes as secretary of state. When the U.S. and Russia reset their relationship, he argued that her mispronunciation of a Russian word hurt the move. "It was the right move to restart, but you gotta get the word right," Chafee said. "They insulted the Russians right off the bat."  
Before it's here, it's on the Bloomberg Terminal.
LEARN MORE