Leaders to Consider Added Capitol Security After Gyrocopter Landing, Pelosi Says
The Democratic leader says she and Speaker John Boehner will make any decisions together in a "non-partisan way."
by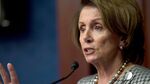 House Minority Leader Nancy Pelosi said that the landing of a gyrocopter on the west lawn of the Capitol Wednesday was "stunning" and that congressional leaders will consider whether added security around the Capitol complex is needed.
She and Speaker John Boehner "have always understood our responsibility to protect the Capitol" and will make any decisions together in a "non-partisan way," said Pelosi.
Capitol Police are investigating Wednesday's landing of the craft by a Florida man as a way to dramatize his call for campaign reform and for ridding government of corruption. On Saturday, another man from Illinois killed himself on the Capitol grounds with a gun.
"I don't know how long that investigation will take," Pelosi said of the probe of the gyrocopter's landing, so near the Capitol.
She said one question is, "How much security can you have and still see a free flow of people coming in and seeing the Capitol?"
"We don't want to be a place where we are saying we want an iron-clad capitol," she said.
Before it's here, it's on the Bloomberg Terminal.
LEARN MORE