Kelley Paul, Rand's Not-So-Secret Weapon
The moderate politics of an insurgent candidate's spouse.
by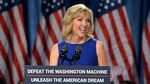 BEDFORD, N.H.—The women parking their cars along Chablis Court and walking into the house party agreed on at least two subjects. First, they'd liked everything they've heard so far about Kelley Paul, the wife of Kentucky Senator Rand Paul. Second, it would sure be nice to have a first lady who isn't Michelle Obama.
"What we have right now is an atrocity!" said Laurie Boilard, 48, who drove down the road from Litchfield to be among the first to meet a potential first lady. "She makes a fool of herself—every time she comes on TV, I have to turn it off. Laura Bush was so classy, and that's what we really need again."
Christine Peters, 38 years old and a past president of the New Hampshire Federation of Republican Women, registered her own problems with Michelle Obama by pointing to her own kids. They sat on a stairwell near the room where host Ann Marie Banfield had piled donut holes, cake, trail mix, tea cookies, chocolate chip cookies, brownie bites, and fun sized candidates.

"We eat cake," said Peters. "We eat candy sometimes, too. And they're at a healthy weight."
Suddenly, Kelley Paul arrived. The norms of political reporting argue against mentioning what a political figure is wearing. The norms of Potential First Lady profiling are different. Just weeks before this tour, for the launch of her book True and Constant Friends, Paul sat for a Yahoo! News profile and photo shoot that detailed her clothes down to the thread: "Fuzzy woolen hat, complete with earflaps and pompom, on her head. Knee-high waterproof boots with faux fur trim on her feet. Puffy white parka zipped in between."
For the record, on Wednesday, Paul's first event in New Hampshire as a presidential candidate's spouse was handled in a fuzzy blue/white top and white jeans. Paul greeted the two dozen plus women (and pair of Republican state legislators) who'd arrived for her, taking photos with whoever asked. When they asked about politics, the conversation moved right on.
"I loved what Rand said about the life issue," said one attendee.
"I don't think I've seen that," said Kelley Paul. "I have to admit, I've been in my own bubble."
"It was about the life issue—he really pushed back and articulated," Paul's fan insisted. "He didn't duck." To illustrate her point, she mimed a coward hiding behind a fence.
There was no follow-up. Kelley Paul was in friendly territory, hitting a stride after weeks of interviews about her husband and upcoming book—a memoir interspersed with anecdotes about the lives of her mother, her grandmother, their friends. It was one of two Paul family tomes in the house; host Ann Marie Banfield also had a copy of the Paul family cookbook created to propose former Texas Representative Ron Paul's 2012 presidential bid, and featuring Kelley's "autumn root vegetable roast."
In her short talk to the room, standing next to a couch as spectators crowded back into the kitchen, Kelley Paul ran through anecdotes she could wring emotion out of without really diverting from her text. She described the pearl-covered "castoff" purse that her grandmother had given her, and how it grounded her in heady times—times like the White House Christmas Party.
"When I stepped into that foyer," she said, "and the marine band was there, in beautiful red and gold brocade uniforms, playing, I took a deep breath and couldn't believe I was standing there. I looked down at my arm and that little beaded purse just shined. And I knew, somewhere, that Grandma was smiling."
Paul mentioned that readers could find a picture of the purse in her book—which they could, next to a description of the Christmas party. "As I walked into the foyer," Paul wrote, "my eyes were wide with the beauty and grandeur of it all—the dozens of sparkling Christmas trees, the Marine band in their gleaming red and gold brocade uniforms playing."
She had never run for office, but Kelley Paul was exactly as on-message and unflappable as her husband, on a bad day, was not. Before she got to Bedford, Paul had sat for a series of interviews in which reporters wanted to know if her husband's contentious interviews with female reporters exposed any kind of latent sexism.
"He's the last person in the world who would ever be dismissive of someone because they're a woman," Kelley Paul told the New York Times. "His long-time partner in his ophtomology practice is a very accomplished, high-achieving female surgeon," she told Fox News. 
Senator Paul, whose campaign staffed his wife throughout the visit, has cited his wife to tell his own personal story of tolerance and understanding. "Imagine what progress has been lost by excluding women and minorities from positions of leadership," Paul writes in the foreword to True and Constant Friends. "I believe we all have reason to be hopeful about the future as both men and women, of all backgrounds, races, and creeds, are encouraged to excel to their maximum potential."
In an interview, Kelley Paul expanded on one of the experiences that set her and her husband apart. As a girl, her family briefly relocated to Izmir, Turkey, where she adapted smoothly to life among Muslims. Her husband had taken to telling audience that he would "name the enemy" and condemn radical Islam in order to fight it. Kelley Paul talked about the radicalization of some Muslims more in sorrow than in anger.
"Turkey was a very secular country," she said. "Americans were beloved. My mom would walk down the street with her friends—this was the early 1970s—and they'd be in their very 1970s outfits, completely Americanized and secular. No one batted an eyelash. It's sad to me, now, to see Turkey going backwards."
In other ways, Kelley Paul was less ideological than her husband seemingly had to be. She had talked and written about her love of Laura Ingalls Wilder's Little House on the Prairie books, but when asked about the anti-New Deal, libertarian themes of the series, Paul said she'd never heard of that. Asked about the decriminalization of some drugs—something the Paul family has defended even when popular—she said that the Paul children were still told to just say no.
"Like any parent, we've told them it's not a good idea, it's not something you should do," she said. "What Rand's said is that when you do make a mistake, he doesn't feel like your life should be ruined." 
Paul's light touch worked throughout the event—but it could have been thrown off badly. Laura Condon, the director of New Hampshire's Voice for Vaccine Choice, arrived at the Bedford house after Paul had already stopped speaking and started signing books. Here was Condon, fresh from confronting New Jersey Governor Chris Christie, carrying leaflets that warned of how vaccines could cause "brain inflammation," "mental regression," and "high pitched screaming." As Paul inscribed books, Condon stood in a living room, spreading a debunked gospel that several of the Republican moms found themselves nodding to.
When Paul stepped onto a porch for a TV interview, Condon waited. Michael Biundo, Paul's rectangular chief strategist for New Hampshire, eyed Condon and pulled her aside. "You can talk to Kelley outside," he said, helpfully but firmly. Sure enough, out of reporter earshot, Condon went up to Paul and, like everyone else in the house that day, came away thinking she'd found a friend.
"She's very polite," says Condon. "She took the information that I gave her. You know, she thanked me, and she told me it's great that people get involved in politics. She was polite and she was very receptive to it. I get that she's not the candidate but, you know, there's always pillow talk."
Before it's here, it's on the Bloomberg Terminal.
LEARN MORE