Jon Stewart Ribs Media Over Clinton-Mania
The comic questions the hype over the presidential candidate's trip to Iowa.
by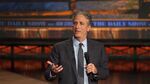 On The Daily Show Wednesday, host Jon Stewart poked fun at the media hubbub that's surrounded Hillary Clinton during her supposedly low-key road trip to Iowa. 
Reacting to footage of journalists chasing the Democratic presidential candidate's van, Stewart likened the excitement to the scene in The Music Man when the band instruments arrive.
"Last time anyone in Iowa was this excited about a wheeled vehicle, the Wells Fargo wagon was bringing musical instruments they'd ordered from a charismatic stranger," Stewart said.
"There are a lot of good reasons for you to be chasing a van," he added. "The van is perhaps the Good Humor truck. And you were five." 
Another good reason for reporters to run would be if Godzilla were chasing them toward the van, he said. 
"Let's say you catch the Clintonmobile," Stewart said. "Best case: You're getting a few second of footage of Clinton leaving the car and going into a building, which really isn't that relevant, unless you're reporting for Entrance and Exits Channel." 
Other reporters and news outlets on Tuesday and Wednesday picked up on the mania surrounding the so-called Scooby Van's arrival. 
As some pointed out, it's all just part of the gig.
Watch the segment here:
Before it's here, it's on the Bloomberg Terminal.
LEARN MORE