It's Good to Be Tax Boss
Political donors need no time at all to start being helpful, according to a review of reports filed with the Federal Election Commission.
by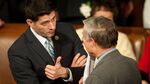 Want to repeal a tax? There are two new guys in charge of the congressional committees that handle that, and campaign donors needed no time at all to start being helpful.
The campaign committees of the chairman and three members of the Ways and Means Committee rank No. 2, No. 3, No. 5, and No. 6 in House re-election cash-on-hand, according to Bloomberg's review of reports filed with the Federal Election Commission.
Chairman Paul Ryan's re-election organization had $3.2 million banked as of March 31.
Right after him in the House rankings, with $3.1 million, is the committee of Texan Lloyd Doggett, the top Democrat on one of the Ways and Means subcommittees.
Ohio Republican Pat Tiberi, who heads the Ways and Means subcommittee that handles trade legislation, is fifth with $2.8 million, and Richard Neal of Massachusetts, another top subcommittee Democrat, is sixth with $2.6 million.
Rounding out the rankings are California Republican Darrell Issa and Peter King of New York, whose campaign organization had just a fraction more than Tiberi.
Issa, with $3.8 million, has more campaign cash-on-hand than any member of the House. He's the former chairman of the Oversight and Government Reform Committee. No. 4 King serves on the Financial Services Committee, which oversees banking laws.
It's too soon to rank the campaign cash of Senate committees because—by law—those filings are still done on paper.
Even with that speed bump, it's possible to say with authority that it's good to be the tax boss in the Senate, too.
Larry Ellison, the billionaire founder of Oracle Corp., sent $43,800 last month to a political fund associated with Senate Finance Committee Chairman Orrin Hatch.
Billionaire Nike Inc. chairman Phil Knight sent $38,600 to the same committee, Hatch Victory Committee, a so-called joint fundraising committee that sent the proceeds to Hatch's campaign committee, his leadership PAC, and the National Republican Senatorial Committee.
Joint fundraising committees make it convenient for wealthy donors to make one big donation that can be then parceled out among multiple campaign entities.
Hatch's committee has jurisdiction over trade pacts, including a proposed 12-country Trans-Pacific Partnership that Oracle and Nike support.
The Utah Republican became chairman when his party took control of the Senate in January.
Before it's here, it's on the Bloomberg Terminal.
LEARN MORE