George W. Bush Acknowledges He's a Problem for Jeb
The former president explains why you won't see him on the campaign trail.
by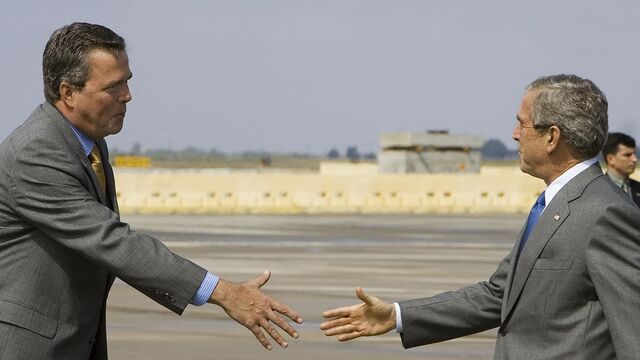 Former President George W. Bush reportedly said Wednesday he is a political problem for his brother Jeb and will stay out of his way if he seeks the White House in 2016.
"It's an easy line to say, 'Haven't we had enough Bushes?' After all, even my mother said, 'Yes,'" Bush said at a conference for information-technology professionals in Chicago, according to Politico. "That's why you won't see me out there, and he doesn't need to defend me, and he's totally different from me. The role of family is not to be a political adviser or a policy adviser—there are plenty of those around. The role is to say, 'Hey man, I love you.'"
Jeb Bush, the Republican former governor of Florida, has walked a fine line when it comes to his brother and father, former President George H.W. Bush, as he explores a presidential campaign.
"I love my father and my brother...but I am my own man," Jeb Bush said in a February speech. "Do you have brothers and sisters? Are you exactly the same?" he asked another audience in March.
Before it's here, it's on the Bloomberg Terminal.
LEARN MORE