Former Scott Walker Aide Forms Super-PAC to Promote Likely 2016 Bid
The group may raise unlimited amounts of money to support the Republican's expected White House run.
by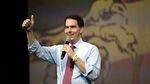 A former top aide to Wisconsin Governor Scott Walker has formed a super political action committee to raise unlimited amounts of money to promote his likely 2016 presidential bid, documents filed with the Federal Election Commission show.
Keith Gilkes, a longtime adviser who ran the Republican's 2010 campaign and served as a chief of staff, is listed on the documents as the group's treasurer.
The super-PAC's creation was reported earlier Thursday by the Associated Press. Stephan Thompson, Walker's 2014 re-election campaign manager and a former Wisconsin Republican Party executive director, is expected to assist Gilkes, the AP said.
The group is being called the Unintimidated PAC, alluding to Walker's 2013 book, Unintimidated: A Governor's Story and a Nation's Challenge. It lists a post office box in Washington as an address on the FEC documents.
Super-PACs cannot coordinate with campaigns, although they've played an increasing role during recent election cycles in assisting candidates with advertising and organizing efforts.
Walker already has a tax-exempt 527 political organization, Our American Revival, that can raise and spend unlimited sums to promote his potential candidacy and policies. That group was created in January and its money can technically be spent only on issue advocacy, not specifically in advocating for Walker.
"Our American Revival is working to promote big, bold reforms like the ones Governor Walker has taken on in Wisconsin," AshLee Strong, a spokeswoman for Walker's political committee, said in a statement. "He has said he won't make a decision on his future until the Wisconsin budget is done, which would be early summer."
The super-PAC's formation comes as a Marquette Law School poll released Thursday show Walker's job approval rating has fallen to 41 percent, with 56 percent of registered voters in Wisconsin saying they disapprove of his job performance. In October 2014, the same poll found his approval among registered voters at 49 percent, with 47 percent disapproving.
Before it's here, it's on the Bloomberg Terminal.
LEARN MORE