Dodd-Frank Changes to Be Weighed in May by Senate Banking Panel
Silla Brush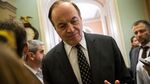 The U.S. Senate Banking Committee plans to consider legislation next month that the panel's chairman has said may seek restrictions on the Federal Reserve while freeing small and regional banks from parts of the Dodd-Frank Act.
Senator Richard Shelby, the Alabama Republican who leads the banking panel, said Wednesday that members will meet May 14 to weigh legislation meant to provide regulatory relief. The committee has been holding hearings and negotiating on ways to boost Fed oversight and lessen the burden on community banks and regionals such as SunTrust Banks Inc. and BB&T Corp.
In an interview on Tuesday, Shelby said the committee is using its hearings to highlight the need for "giving some relief to small- and medium- sized regional banks because that's so important to our economy."
He said he was still discussing legislation with Senator Sherrod Brown of Ohio, the committee's top Democrat.
"We haven't gotten there yet," Shelby said.
Legislation slated for consideration in May could also include measures on the Financial Stability Oversight Council, the 10-member panel of regulators that assesses risks to the financial system, as well as on insurance and mortgage regulation, according to Torrie Miller, Shelby's spokeswoman.
Before it's here, it's on the Bloomberg Terminal.
LEARN MORE