Clinton Foundation to Limit Donations from Foreign Countries
Facing criticism for receiving donations from countries like Saudi Arabia, the foundation has abruptly changed course.
by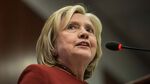 The Clinton Foundation will continue taking contributions from six foreign governments while barring those from all others and begin disclosing all donations more frequently, it said Wednesday.
It's an attempt by the foundation, now led by former President Bill Clinton and daughter Chelsea Clinton, to tighten its financial policies in response to heightened scrutiny as Hillary Clinton begins her presidential campaign.
The foundation's board—from which the former secretary of state resigned on Sunday—has voted to only take funding from the governments of Australia, Canada, Germany, the Netherlands, Norway and the United Kingdom. That money will be directed to the economic development and climate-focused work of the Clinton Climate Initiative, the Clinton Development Initiative, and the Clinton Giustra Enterprise Partnership, the foundation's updated policy says.
The foundation will also, in July, begin disclosing its donors on a quarterly basis, a modification from its annual disclosures of recent years.
After the international conference scheduled for May in Morocco, the Clinton Global Initiative will stop holding international events or accepting foreign contributions or sponsorships. Foreign governments will only be able to pay meeting attendance fees. 
The modifications come after weeks of pressure on the foundation to clarify its policies on accepting money from foreign governments following reporting on recent contributions from the governments of Saudi Arabia and the United Arab Emirates, among others, as Clinton prepared to run for president. 
While it's a move that will satisfy some Clinton supporters who had hoped to see oversight tightened, it's not likely to be enough for critics on the right and the left who say that any entity associated even indirectly with the candidate should not take foreign money.
Foundation spokesman Craig Minassian said the new rules, first reported by the Wall Street Journal, are sign of the organization's commitment to transparency.
"While it's common for global charities to receive international support, it's rare to find an organization as transparent as the Clinton Foundation," Minassian told Bloomberg. "By implementing this new, even stronger and more transparent policy, the Clinton Foundation is reinforcing its commitment to accountability while protecting programs that are improving the lives of millions of people around the world."
But even the appearance of foreign influence on Clinton as she campaigns is sure to draw attacks, especially as she talks about getting "unaccountable money" out of politics.
The Clintons have worked for the last few years to put the foundation on more solid financial footing in case the former secretary of state chose to run, aiming to build a $250 million endowment. Bill Clinton has said recently that his focus in 2015 will be on strengthening the foundation in case his wife's role forces him to limit his engagement in fundraising and other activities.
A Clinton campaign spokesman did not respond to a request for comment. 
Before it's here, it's on the Bloomberg Terminal.
LEARN MORE