Reid Reviews 2016 Republicans: 'I Don't Really Care. I Think They're All Losers'
Ahead of his retirement, the Senate minority leader slammed Mitch McConnell and the whole GOP presidential crop, while showing some love to Hillary Clinton, Joe Biden, and John Boehner.
by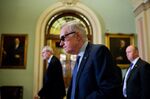 Harry Reid says he doesn't intend to be mean-spirited; he just thinks Mitch McConnell "is a lump of coal."
The retiring Senate minority leader hit the chamber's Republican leader—and a whole host of other political figures—a characteristically frank interview with CNBC published Wednesday.
He said conservative radio host Rush Limbaugh wasn't credible, compared former Fed Chair Alan Greenspan to J. Edgar Hoover, and again implied Mitt Romney was hiding something on his tax returns.
When asked who he thought the Republicans would nominate for president, Reid was unsparing: "I don't really care. I think they're all losers." Currently, three of Reid's Republicans colleagues—Senators Ted Cruz, Rand Paul, and Marco Rubio—have announced runs.
The Nevada senator, who encouraged then-Senator Barack Obama's 2008 presidential bid because of concerns about Hillary Clinton, said he likes the former New York senator and Secretary of State "very much" and is comfortable with the idea of her as his party's nominee.
Reid wasn't completely ornery. He said Joe Biden is "a wonderful human being" about whom he could say nothing bad. He said Greenspan's successor, Ben Bernanke, "did an outstanding job," and he reminisced about Bill Clinton's habit of ending phone calls with "Harry, I love ya."
Reid also said he actually likes House Speaker John Boehner "a lot" despite having accused him of running a "dictatorship."
"We done a lot to get this Congress out of serious problems," he said. "We don't do it publicly. But you go out and see all the crisis we've had and they go away, we've had our fingerprints on that."
Before it's here, it's on the Bloomberg Terminal.
LEARN MORE