Obama Bows to Compromise on Iran Bill as Tide Turns in Senate
Margaret Talev and Kathleen Miller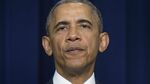 President Barack Obama agreed to accept compromise Iran legislation that he didn't want after it became clear that Democratic lawmakers would join with Republicans in demanding a say on the nuclear deal with the Islamic Republic.
Faced with the growing threat of Congress passing by a broad margin a bill that would weaken him for the remainder of his presidency and potentially derail negotiations with Iran, the administration signaled Obama would relent and sign modified legislation giving lawmakers a chance to review an agreement with Iran before deciding whether to lift sanctions.
Both sides claimed a measure of victory.
Obama's chief spokesman, Josh Earnest, said lawmakers removed the most objectionable parts of the original legislation from Republican Senator Bob Corker of Tennessee and Democratic Senator Robert Menendez of New Jersey, which the White House threatened to veto.
Corker labeled that as White House spin. The core of the legislation -- Congress's authority to vote on sanctions -- remains in place and has broad bipartisan support, he said.
"My sense is they know that this thing has run away," Corker said. Up until the end, he said, administration officials were lobbying against any measure requiring Obama to submit a deal to congressional approval.
Deal Brokers
The compromise, approved 19-0 Tuesday afternoon by the Senate Foreign Relations Committee, was brokered by Corker, the panel's chairman, and Maryland Senator Ben Cardin, its top Democrat.
Cardin, who replaced Menendez as the ranking Democrat on the committee following the New Jersey senator's indictment earlier this month on corruption charges, acted as an intermediary with the administration during negotiations with Corker.
He spoke to Obama, White House Chief of Staff Denis McDonough and Secretary of State John Kerry multiple times over the past 10 days, according to a Senate aide, who asked for anonymity to discuss the private talks.
Corker came to Cardin's office Monday afternoon to nail down the final details, the aide said.
The compromise legislation would cut from 60 days to as few as 30 days the time Congress has to review a final deal with Iran. It removed language requiring that Iran renounce ties to terror groups before any sanctions are lifted, which Earnest called "unrealistic."
Iran Sanctions
A vote to allow or forbid the lifting of economic sanctions previously imposed on Iran by Congress would come after lawmakers review the agreement.
The president still could veto any legislation that would scuttle the Iran negotiations.
"Despite the things about it that we don't like, enough substantial changes have been made that the president would be willing to sign it because it would reflect the kind of compromise" that he'd accept, Earnest said.
One of the key developments that forced Obama's hand was the decision by Senator Charles Schumer of New York, the Senate's No. 3 Democrat, to sign on to Corker's original legislation.
Schumer, in line to succeed Nevada's Harry Reid as the chamber's Democratic leader, served as a clear warning sign to the administration that skepticism about the Iran deal among Obama's fellow Democrats meant Obama couldn't count on any veto being sustained.
The White House congressional liaison staff calculated that the Corker-Cardin compromise could survive a presidential veto, according to an administration official.
Cardin's Rise
The elevation of Cardin as ranking Democrat on the Senate Foreign Relations Committee opened the door to a compromise being hammered out.
While Menendez has had a sometimes tense relationship with the White House, Cardin was willing to push for an accord that would protect Obama's interests as well as maintain Congress' ability to weigh in, said another Senate aide with knowledge of the negotiations, who spoke on condition of anonymity to discuss the process.
House Majority Leader Kevin McCarthy, a California Republican, said a decisive vote for the legislation in the Senate likely would translate into strong support in the House.
The American Israel Public Affairs Committee, a pro-Israel advocacy group that has opposed the nuclear deal with Iran, applauded the Foreign Relations Committee vote.
"Congress should review any agreement to ensure it meets U.S. objectives and object if it fails to do so," a statement from the group said.
Impact on Talks
National Iranian American Council Policy Director Jamal Abdi said in a statement that the compromise "does not change the fundamental problems with this bill. It still threatens to derail the talks and kill a deal, and we remain opposed to it."
Abdi said that while he is hopeful that Obama's acceptance means the administration has a plan to make sure it won't derail talks, its passage "will make already difficult negotiations with Iran even more difficult."
One U.S. official involved in the talks with Iran and with Congress said the legislation poses two potential complications in the negotiations with Iran and five other world powers.
The first, said the official, who requested anonymity to describe internal policy discussions, is the prospect that the Iranians might use it to argue that the U.S. is setting new terms and then try to delay the talks beyond their June 30 deadline, demand new concessions, or seek to separate the U.S. from its negotiating partners.
Review Time
According to an aide to Corker, the legislation says that if the deal is submitted after July 9, the period for Congress to review it increases to 82 days. Until then, Obama would not be able to waive any congressional sanctions on Iran.
A second concern, the official said, is that some lawmakers might try to use the legislation to undermine any final agreement with Iran, such as by rejecting Obama's certification that Iran is complying.
Ilan Goldenberg, a senior fellow at the Center for New American Security in Washington, said that while the Iranians will raise concerns about the legislation and use it for leverage, they are unlikely to try to renegotiate terms they already have agreed to.
"The Obama administration would never have agreed to something that would endanger what is a central and historic foreign-policy legacy issue for the president," said Goldenberg, a former staff member of Senate Foreign Relations Committee and State Department official.
The compromise shows "there are people in Congress that don't want the responsibility for tanking this agreement at such an early stage," said Aaron David Miller, a former Middle East adviser to both Democratic and Republican administrations.
"Nobody right now wants responsibility for fighting with the president or creating obstacles that would have a chilling impact on testing the possibility that at the end of the day this is a better deal than the one that they want," said Miller, vice president at the Woodrow Wilson International Center for Scholars in Washington. "They want to wait to see exactly what this deal ultimately involves because right now you have a fact sheet and a couple of joint statements."
Before it's here, it's on the Bloomberg Terminal.
LEARN MORE