Hillary Clinton's Iowa Trip: Few Policy Hints, Tentative Bowling Plans
More than anything else, she is determined to use her early campaign travel as a give-and-take with voters, to share her views and absorb their ideas.
by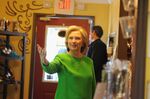 NORWALK, Iowa—Hillary Clinton is listening.
That, more than anything else, was the takeaway from the former secretary of state and freshly minted presidential candidate's first two days on the campaign trail.
On Tuesday and Wednesday, at two roundtables that spanned more than an hour each, and in stops for coffee and meals, Clinton made clear to the voters she met—not to mention the dozens of members of the media who crossed the state with her from the northeast corner to the Des Moines area—that she is determined to run this race differently than her last one. More than anything else, she and her aides have said, she is determined to use her early campaign travel as a give-and-take with voters, to share her views and absorb their ideas.
She did that Wednesday, after Brendan Comito, the COO of Capital City Fruit, which hosted her for a conversation in a warehouse full of thousands of boxes of merchandise, said that his health insurance broker had initially told him that the company's rates would go up by 18 percent last year.
Another person at the table asked if insurers can compete across lines and she answered "not yet" before suggesting that she was open to an idea that many Republicans have been pushing for: expanding insurance markets beyond individual states. "If we're going to have a free market system then we need a free market," she said. While not committing to the approach, she said she was open to it.
Throughout her two days in the Hawkeye State, Clinton was down-to-earth and attentive but carefully controlled, ignoring most shouted questions from journalists trying to get detailed answers about her views on the same-sex marriage case pending before the Supreme Court and House Republicans' probe of her use of a private email account.
"I'm glad to be back," she said Tuesday while getting breakfast with half a dozen politicos—including a former lieutenant governor—at Tremont Grille in Marshallville. "It is fun."
At the start of her roundtable conversations, a stump speech started to take shape, with mentions of improving economic opportunity for families and removing "unaccountable money" from politics.
Clinton hasn't spoken much about immigration reform in recent months but did on Wednesday, bemoaning Washington's inaction on the issue. "We are really missing out on economic opportunities because we haven't been able to agree on comprehensive immigration reform," she said. "We are turning down people who really want to work."
Clinton was set to spend some time Tuesday afternoon meeting with Iowa state lawmakers and though she rode here from New York in her "Scooby van," she planned to fly back commercially early Thursday.
But she'll be back many times in the months leading up the Iowa caucuses, which are tentatively set for early February.
Asking one roundtable attendee about the hours when the bowling alley he owns is open, Clinton, who bested Barack Obama at the game back in 2008, hinted she might visit.
"We need more bowling," she said. "Everybody needs to go bowling."
Before it's here, it's on the Bloomberg Terminal.
LEARN MORE