New Hampshire Man Who Told Chris Christie He Was in Bridge Jam Recants Story
Terrence Dopp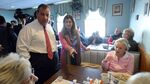 The registered Democrat who told Chris Christie during a New Hampshire diner stop Wednesday that he was stuck in the September 2013 bridge-traffic jam that's ensnared the New Jersey governor's administration now says he misspoke.
Richard Moquin, an attorney from Bedford, New Hampshire, said he often jokes about the traffic backup with his wife and got the matter confused when he saw Christie at Chez Vachon in Manchester. Actually, Moquin said, he was caught at the George Washington Bridge in December 2013.
"I'm sorry for any inconvenience," Moquin, 68, said in a telephone interview.
Federal prosecutors are investigating whether laws were broken when Christie allies engineered four days of lane closings as political retribution. Christie, a second-term Republican and potential candidate for president, has denied any wrongdoing.
During the hour-long stop, Christie discussed gun rights, his plan to means test Social Security benefits, football and the finale of "The Sopranos" HBO mobster show taped in New Jersey (no, Christie as governor hasn't been let in on exactly what happened when the screen went blank).
Christie is on the second day of his "Tell It Like It Is" tour of New Hampshire, the first-in-the-nation primary state, that included a speech on Tuesday about federal entitlements, retail stops and two town-hall meetings. On Friday, he and more than a dozen other potential Republican presidential hopefuls are scheduled to attend a party summit in Nashua.
Before it's here, it's on the Bloomberg Terminal.
LEARN MORE