Carly Fiorina Attacks Hillary Clinton on Equal Pay
Democrats, organized labor, and pay based on seniority are to blame, the likely Republican presidential candidate says.
by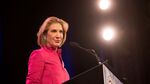 Likely Republican presidential candidate Carly Fiorina on Tuesday attacked Hillary Clinton on equal pay and offered her own prescriptions for the gender wage gap.
Fiorina's comments come as she prepares to announce her decision on whether to enter the 2016 race, and as Clinton visits Iowa on her first trip as an announced candidate for the Democratic nomination. Fiorina, the former CEO of Hewlett-Packard, blamed liberal policies, including organized labor and pay based on seniority, for disparities between men and women.
"While this debate has often been politicized by those on the left with cherry-picked statistics and quasi-facts, we do know that women don't always get compensated fairly and that we can do more," Fiorina wrote in a Facebook post. "We also know that the White House and Hillary Clinton don't pay women the same as men by their own measures."
"The single greatest impediment to equal pay for equal work is the seniority system, which pays not on merit and not on performance, but on time and grade," Fiorina continued. "The federal government can lead this charge by dismantling its seniority system—a system that rewards employees for time in grade, not for merit, performance or hard work. ... And who is it who supports the seniority system? Unions, government bureaucracies, the very constituencies that Hillary Clinton and the Democratic Party represent and which support them."
The median salary for women in Clinton's Senate office was some $16,000 lower than for men, the Washington Free Beacon reported in February. But a "review of internal salary information ... shows full-time female and male staffers from her Senate office and three political committees making a dollar for dollar," BuzzFeed reported last week.
Clinton's campaign did not immediately reply to a request for comment on Fiorina's attack. The campaign marked so-called Equal Pay Day on Tuesday with this tweet:
Before it's here, it's on the Bloomberg Terminal.
LEARN MORE