Ready or Not, Hillary Clinton Hits the Campaign Trail
The former secretary of state will start shaking hands and interacting with voters on Tuesday.
by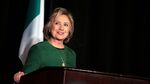 CEDAR RAPIDS, Iowa—Hillary Clinton will hit the campaign trail on Tuesday on her own behalf for the first time in nearly seven years, and she and her team are betting that she won't be too rusty.
The former secretary of state has spent the past two years in the friendly environs of paid speeches and charity galas, where questions—when she's gotten them—haven't been all that pointed, even when they've been about her political future and her policy positions. And the results haven't been memorable or particularly humanizing for a woman who's been a larger than life figure in the minds of many Americans for the past quarter-century.
But as she starts her outreach to Iowans at a community college campus in Monticello, 40 miles north of here, she'll be focused on hitting what has long been her sweet spot, her ability to connect with people in more personal settings, across a roundtable or over a cup of coffee.
That doesn't mean that it will be easy.
First, there is the question of just how ready she is for all the impromptu exchanges that take place on the campaign trail. She's warmed up a bit during her 1,000-mile ride here in the mobile office-on-wheels she's nicknamed her "Scooby" van, posing for photo ops at a Pennsylvania gas station and going unnoticed at a Chipotle store in Maumee, Ohio. But during her only recent brush with hostile questioning—at her United Nations press conference last month—she came off forced and frustrated.
There is one big difference, though: that press conference was about her and, her aides insist, her travel is about the people she'll encounter. "This isn't about her, this is about Iowans, every day Iowans—their hopes, their dreams and what they want in the future," a senior campaign official said Monday.
Not all of those Iowans will be friendly to her, though. Republicans might push her on Benghazi or her e-mails, while Democrats might ask about her Wall Street ties.
"She'll definitely get asked the hard questions at the coffee shops and other places she goes to," said Woodbury County Democrats chair Penny Rosfjord, who lives in Sioux City. "Those aren't scripted and people will ask what they want to ask without the bright lights."
Rosfjord, who like other county chairs is reserving her judgment on Clinton and the small field of Democrats considering getting into the nomination race, said she wants to ask Clinton how she plans to work with Congress and what she'll do to raise the minimum wage. But those questons aren't specific to Clinton. "I would ask them of any candidate," Rosfjord said.
Another obstacle for Clinton and her team could be the massive media horde that has descended upon the Hawkeye State to be present for Clinton's first public appearances as a candidate, and threatens to overrun her campaign's attempts at intimacy. Just as she tries to reset her at times contentious relationship with the press, her team is limiting access to her open events to one person per print outlet, and will set up a pool to keep her entourage as small as possible without enraging the nation's largest news organizations.
And, while small events may thrill those voters who make it into the room, they could leave others disappointed.
"They're trying desperately to avoid the entourage," said Kurt Meyer, who supported Clinton as he ran for Congress in 2008. "It's a problem if the bus you're riding on contains more people than are going to meet you."
The campaign official acknowledged the "challenge" of balancing the size of Clinton's events with the level of attention they'll draw.
But it's a challenge the campaign knows it has to confront. Despite running a strong race, Clinton placed third in the 2008 caucuses, eclipsed not only by the "Barack Obama buzzsaw," in the words of Iowa Democratic Party chair Scott Brennan, but also bt John Edwards. Even though all the other Democrats considering running for the nomination trail her in polling by massive margins, she's determined to fight for the win rather than just taking it by default.
"Hillary knew from the get-go that she obviously wanted to begin the campaign in Iowa but really invest in Iowa and build a serious operation there," said a second senior aide. Noting that sitting presidents and former Iowa Sen. Tom Harkin have been the only candidates to win more than 50 percent of votes in the caucuses, the aide added: "this is going to be a competitive caucus."
Democrats are universally happy that Clinton is acknowledging that their state matters.
"We're all thrilled that we finally have candidates and we're getting the process started," Brennan said.
And Clinton is taking the right approach, he said. "You have to talk to folks and have an understanding of what's important to them … that's the way you have to work Iowa."
Rick Smith, a member of the State Central Committee of the Iowa Democratic Party who lives in Des Moines, said he also sees Clinton headed in the right direction. "It's trust, likability, credibility. Coming here, she'll have those retail opportunities, those face-to-face opportunities where she can really express herself personally and that can be translated to the rest of the country."
And, he added: "I think all Democrats in Iowa have been waiting for Hillary because she's got so much power and influence behind her. But we've got to hear what she has to say."
Before it's here, it's on the Bloomberg Terminal.
LEARN MORE