Rand Paul: Now in Comic Book Form
A guide to the senator's new, unauthorized sequential art.
by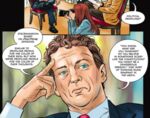 For several years, Bluewater Productions has been putting out comic book biographies of famous politicians, putting familiar (or even dry) anecdotes into the slam-bang format of origin stories. Its latest offering in the "Political Power" line is a book about Kentucky Senator Rand Paul. "We've had him on our radar for a little bit," said Bluewater publisher Darren Davis. "We were working on this for about the last four or five months, and just got really lucky in the timing."
The comic—an advance copy of which was shown to reporters today—presents Paul's life through an interview he's giving to an occasionally nosy reporter. The reporter's prodding allows the author, University of Missouri professor Mike Frizell, to let Paul take swings at questions he doesn't like without the reader feeling like the senator's driving the conversation. (Paul did not sit for a fresh interview with Frizell.)
"We try to keep these unbiased," said Davis.
After some throat-clearing about his presidential aspirations, Paul's answers take him to some reminiscence of his early life in Texas. After getting into a fight, he's assigned a paper by his father, Representative Ron Paul. The question is scientific: How much force would it require to punch his brother into the moon?

Lesson learned, "Randy" Paul asks his father why other boys have allowances and he doesn't. The congressman is tough but honest.

From there, Paul only stumbles once: with the secret society hijinks of his days at Baylor University. The "aqua buddha" adventure uncovered by reporter Jason Zengerle in 2010 is retold over several pages, ending with the coup de grace of -- finally -- an illustration of the bong/deity.

Like so many leaders before him—Caesar, Justinian, Bush—Paul is straightened out when he finds the right wife. The entry of the future Kelley Paul into his life culminates in a tribute to the iconic "face it, tiger" scene from Steve Ditko's run on Spider-Man.

Paul's subsequent Senate career is dealt with in just a few scenes. There's really little detail about his 2010 Senate bid, other than the blessing he gets from his father. The highlights of Paul's term are said to be his outreach to the black community, his filibuster of the CIA director, and his confrontation of Hillary Clinton over the Benghazi attacks—a scene enacted in two dramatic pages.

The interview/flashback format allows Frizell to portray one less flattering aspect of Paul's rise: His bristling at questions that displease him. The un-named journalist who makes Paul live out his past gets a full-on death stare, with the senator accusing him of "profiling" until an aide leans in to move along the conversation.
"It's part of his story," said Davis. "It's who he is. It's telling of him."

The comic is available, as of tomorrow, via online orders. It's print-to-purchase, with no set press run. "We're planning on a Jeb Bush one, a new Hillary Clinton one," said Davis. "We already had a Marco Rubio one planned at some point. We've had the up-and-comers on the schedule for quite some time."
Before it's here, it's on the Bloomberg Terminal.
LEARN MORE