How Marco Rubio Is Addressing the Jeb Bush Elephant in the Room
A Florida friendship in the spotlight.
by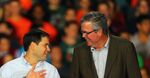 Marco Rubio insists he's not running against Jeb Bush. 
In interviews surrounding his Monday announcement that he will run for president, Rubio, a Republican senator from Florida, repeatedly fended off the notion that he is going to have to go head to head with likely candidate Bush, the former governor of the state and someone Rubio counts as a friend and mentor.
The two have a long history. In 2009, before deciding to run for Senate, Rubio said he would only run if Bush decided not to. He later said his mantra in the Senate was "what would Jeb Bush do?" Just last week, the two sat next to each other on a flight back from a National Rifle Association event. 
Asked on ABC News on Monday why he wasn't deferring to Bush this time, Rubio said, "That was a different time. And the country was at a different moment at that point. I think today we're even further along into the 21st century, but not our policies. And I just feel uniquely called to at least lend my voice to this effort and I think we're going to be successful."
Here are some of Rubio's other comments this week on whether his friend is becoming his frenemy.
On NPR:
Jeb and I are friends, we'll always be friends. And I have tremendous admiration for him as a person, what he did as governor, and personal affection. And that's not going to change. I don't view, I'm not running against Jeb Bush and I'm not running against anybody in this field. I'm running because I strongly believe that I have something to offer this country that no one else in the field does at this moment in our history. And I'm going to go out there and do the best job that I can and—but, I mean, that's not going to impact our relationship in any way that's going to change how we feel about one another and it was great to see him and spend quality time just talking about good times and everything going on. 
On ABC News:
Jeb is my friend. He is still my friend. He will continue to be. We'll continue to be friends. I have tremendous admiration for him. ... I'm not running against Jeb Bush and I hope he's not running against me. We are competing for the same job.
 On MSNBC's Morning Joe:
Well, first of all, there are other candidates in this race [besides Bush] and voters are going to have a chance to compare all of us.
On Fox News' Hannity:
We still do [have a close relationship]. We're friends and I consider him a friend and he's someone I admire and respect. I'm not running against Jeb Bush, if he decides to run. I'm running because I believe I'm the right person at the right time for this country. And obviously voters are ultimately going to make that decision. I still have tremendous respect for him, as I do for other people in this race that are friends of mine that I respect. We're lucky in our party. We have many strong candidates. The Democrats are struggling to come up with even one.
Before it's here, it's on the Bloomberg Terminal.
LEARN MORE