Hillary Clinton Begins Iowa Meet-and-Greet
The Democratic presidential candidate hits a coffee shop to talk with voters face to face.
by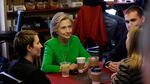 LE CLAIRE, Iowa—Hillary Clinton wants to "drink my way across Iowa," she said here Tuesday as she kicked off her first day of presidential campaign stops at a coffee shop.
Clinton's focus as she launches her candidacy is on reaching out to voters in intimate settings, and the Jones Street Java House certainly was one, as about a half dozen people waited to speak with her.
The Democratic former secretary of state, wearing a neon green tunic, ordered a masala chai, a chocolate-caramel latte, and a glass of water—with lemon, if possible.
Clinton briefly discussed her road trip with the people gathered in the cafe's small seating area of about 10 tables and greeted those waiting for her.
"It's a pleasant surprise," said Jeff Williams of American Fire and Safety, a local business owner and husband of the cafe's co-owner, Jen Williams.
About two dozen members of the press jammed behind the counter to watch the first few minutes of Clinton's visit but were pulled out as she sat down for a roundtable with three people: Sara Sedlacek of West Liberty, who works for Planned Parenthood of the Heartland; St. Ambrose University student Austin Bird; and University of Iowa College Democrats president Carter Bell.

Before it's here, it's on the Bloomberg Terminal.
LEARN MORE