Corker Urges Lawmakers to Let Congress Vote on Iran Nuclear Deal
Terry Atlas and Kathleen Miller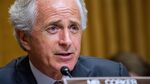 Senate Foreign Relations Chairman Bob Corker urged committee members to approve a bill allowing Congress to review any nuclear deal with Iran, just after the Obama administration signaled it would accept the compromise.
"This legislation is exactly the congressional review we've been working on since day 1," Corker said in his opening statement as the panel took up the measure.
The panel's top Democrat, Ben Cardin of Maryland, announced before the panel began considering the bill Tuesday that he'll support it, after Corker agreed to shorten the deadline for Congress to review any deal with Iran.
White House press secretary Josh Earnest said Tuesday that "despite the things about it that we don't like, enough substantial changes have been made that the president would be willing to sign it," as long as the committee makes the proposed changes.
Earlier, the administration had said President Barack Obama would veto a bill requiring congressional review on the grounds it could disrupt final negotiations with Iran and five other world powers.
The administration had objected to a requirement that the president must certify Iran has stopped support for terrorist groups, a 60-day review period that would delay implementation of any agreement, its interference with the president's authority to conduct foreign policy and provisions that aren't related to the substance of the agreement.
The revised provisions "would be the kind of compromise the president is willing to sign," Earnest said.
52 Days
Even before the compromise was reached, eight Senate Democrats and one independent were co-sponsoring Corker's plan to give Congress a say in any deal with Iran. Tuesday's compromise raised the prospect that the measure would gain enough Democratic support to override a presidential veto.
Corker changed the bill to reduce the review period from 60 days to 52 days -- and perhaps as few as 30 days -- so long as Congress received the details of a deal by early July.
Corker said his plan would require Obama to certify that Iran remains in compliance with any nuclear agreement "on a 90-day basis."
While the bill would require the president to report on whether Iran is a sponsor of terrorism, a finding that it is sponsoring terrorism would no longer trigger a renewal of sanctions, according to Sue Walitsky, a Cardin spokeswoman.
At least one Republican said he'll resist changes. One member of the Foreign Relations panel, John Barrasso of Wyoming, said that if there was an effort "to water down the bipartisan bill, I'll be there with amendments to beef it up."
Kerry Briefings
Secretary of State John Kerry and other top officials briefed lawmakers this week on a framework accord reached with Iran to curb its nuclear program in exchange for a gradual easing of economic sanctions. The U.S. and other world powers have set a June 30 deadline to reach a final agreement.
Israel says its existence would be threatened by an agreement with Iran, and a number of Republicans in Congress oppose the framework.
The full Senate may vote on Corker's bill, S. 615, as soon as next week, according to second-ranking Republican John Cornyn of Texas.
House Majority Leader Kevin McCarthy, a California Republican, said that if the Senate passes the Corker measure, the House of Representatives will take it up and can pass it with "high numbers."
House Democrats, though, gave Kerry a standing ovation after he made a pitch for the Iran deal at a private meeting Tuesday, several lawmakers said.
'Persuasive Case'
"The secretary made a very persuasive case to give him the time to see if he can get a deal," said Representative Adam Schiff of California, the top Democrat on the House intelligence committee. He said he opposed taking up the Corker bill while negotiations are continuing.
House Speaker John Boehner said he isn't actively working to defeat an Iran deal
"From everything I've heard about the so-called framework, all it is is really an agreement to keep talking," said Boehner of Ohio. "Congress absolutely should have the opportunity to review this deal."
Senate Majority Leader Mitch McConnell of Kentucky said on the Senate floor that the framework "seems more like an agreement built around Iran's terms."
U.S and Iranian officials have publicly sparred over the terms of the political framework, offering competing information about the details that must be settled to produce a deal confining Iran's nuclear work to civilian purposes.
While Kerry said economic sanctions would be lifted in phases as international inspectors verify compliance, Ayatollah Ali Khamenei said sanctions would need to be lifted upon the accord's signing and that Iranian military facilities would stay off-limits to inspectors.
Before it's here, it's on the Bloomberg Terminal.
LEARN MORE