Chris Christie Pushes Means Test for Social Security in New Hampshire
Terrence Dopp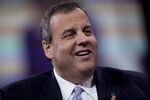 Chris Christie laid out plans to means test Social Security and raise the retirement age during a speech on Tuesday in early-voting New Hampshire, as he seeks to crack the top tier of the party's 2016 presidential hopefuls.
Christie, the 52-year-old Republican governor of New Jersey, called for phasing out retirement payments to those with more than $200,000 a year in other income and smaller reductions for those earning $80,000. Together, he said, the overhaul would save $1 trillion over a decade.
"It is about telling all Americans the truth -- and without delay," he said during a 40-minute speech at St. Anselm College in Manchester. "If you believe we should keep this promise, as I do, that all Americans should have access to the economic security these programs provide, then that costs money."
Spelling out his plans in detail for the first time, Christie proposed:
-- Raising the retirement age for Social Security to 69 from 67, for those born in 1960 or later;
-- Raising the age to qualify for Medicare by one month per year until it reaches 67 from the current 65.
-- Eliminating payroll taxes for seniors who remain in the workforce.
Later Years
The elderly "have earned the right to live out their later years without the fear of poverty," Christie said to a crowd of about 180. "But I am also here to tell you that the fairness we seek must be broad and must be earned."
Christie's speech was filled with numbers: U.S. life expectancy is 79 for a man and 82 for a woman, compared with 67 and 73, respectively, when Medicare was enacted; 26 percent of the federal budget went to individuals in 1960, compared with 71 percent today; the economy has grown more than 200 percent in the past 25 years while Medicare has grown by 539 percent and Medicaid more than 800 percent.
"We spend over 56 percent of the income per every worker on seniors, while spending only 8 percent on children," said Christie.
'An Outrage'
The plan brought immediate criticism from opponents including U.S. Senator Bernie Sanders, a Vermont independent who may run as a Democrat.
"What Governor Christie is saying is just a continuation of the war that is being waged by the Republican Party against the elderly, against the children, against the sick, and against the poor, to benefit the millionaires and billionaires, he said at a news conference. ''It is an outrage.''
Neil Levesque, executive director of the New Hampshire Institute of Politics at St. Anselm, which hosted the event, said the speech was so far the most specific he's heard.
''It's going to separate him from the crowd," Levesque said. "With 19 candidates, anything that can get him on the front page or on television sets will attract voters."
Christie turned down pleas to enter the race four years ago and has struggled to recapture that level of support. Christie said he will announce in May or June whether he will run. Three Republicans -- Marco Rubio of Florida, Ted Cruz of Texas and Rand Paul of Kentucky -- have already declared candidacies.
Christie's three-day tour of the Granite State, which will hold the first primary of the nominating contest, also features events in Londonderry and Exeter.
Before it's here, it's on the Bloomberg Terminal.
LEARN MORE