Can Rubio Make Helping the Middle Class a Republican Issue?
Rubio's economic approach, if not his specific ideas, gets a warmer reception on the left than from some on the right.
by and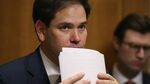 Marco Rubio says he wants to make helping the poor and middle class a Republican issue. It's not clear how much his party wants to do it.
The U.S. senator from Florida, who announced his presidential run on Monday, casts himself as a "reform conservative," advocating from the right an economic cause also championed by President Barack Obama and Democrats amid growing inequality.
While Rubio is proposing dozens of ideas in his "Reclaiming the American Dream" plan, some Republican economists are already critical of major elements, such as a $2,500-per-child tax credit.
"To try to target your benefits to the middle class is about as bad as I can imagine," said Arthur Laffer, a former economic adviser to President Ronald Reagan and chairman of Laffer Investments Inc. in Nashville. "Just target the economy, get growth back."
Others say a party that has lost four of the past six presidential elections has to change its economic message.
"The party has to recognize that the agenda that it's promoted the last several cycles has not worked, and people do feel like it's out of touch," said Peter Wehner, a senior fellow at the Ethics & Public Policy Center in Washington who served in the past three Republican administrations.
Rubio, 43, joins senators Ted Cruz of Texas and Rand Paul of Kentucky as announced Republican candidates. Other potential entrants, including former Florida Governor Jeb Bush and New Jersey Governor Chris Christie, also have discussed the need to address income inequality.
The U.S. wealth gap in 2013 widened to the most in 30 years, according to a Pew Research Center analysis released in December. The median wealth of upper-income families of $639,400 was almost seven times the $96,500 of middle-income families.
In speeches and opinion pieces, Rubio describes the opportunities that his father, a bartender, and his mother, a hotel maid, had when they came from Cuba in the 1950s. He says that government today is failing the poor and middle class by pumping money into antiquated programs and following policies that haven't kept pace with a rapidly changing economy facing global competition, the fall of old industries and the rise of new ones.
Among Rubio's proposals are plans to address poverty with wage subsides, the child tax credit and easing student-loan debt by linking repayment to income.
"This new era requires new ideas -- still rooted in the principles of free enterprise, limited government and individual responsibility -- but adjusted to meet the new challenges of a new day," Rubio wrote in his policy agenda.
His campaign declined to comment on the senator's economic advisers. In his book published this year, "American Dreams: Restoring Economic Opportunity for Everyone," Rubio thanked dozens of people. Among them are Arthur Brooks, president of the American Enterprise Institute, and Oren Cass, a senior fellow at the Manhattan Institute for Policy Research.
Rubio's economic approach, if not his specific ideas, gets a warmer reception on the left than from some on the right.
"Rubio is the only Republican so far to acknowledge that if the party is to overcome the default assumption it's the party of the wealthy they're going to have to offer a substantive program that actually addresses the concerns of the low and moderate income," said Paul Waldman, a senior writer for liberal-leaning American Prospect magazine.
Key members of Rubio's own party are cooler.
Asked about a Rubio plan to consolidate all needs-based federal assistance programs into a so-called "Flex Fund," and send the money to the states, Robert Rector, a senior research fellow with the Heritage Foundation, which advocates limited government, said the idea has a record of failure stretching back to the administration of Richard Nixon.
While states generally spend wisely, he said, they waste federal funds and no amount of rule-setting will correct the problem.
"If you look at the overall record of the federal government giving the states money, it's one of inefficiency, not accountability," he said. "I challenge you to find one example of success from a conservative point of view."
The candidate's challenge has been to stay true to his belief in small government while finding resources for programs. The dilemma shows up in the design of many proposals.
Rubio's Flex Fund plan would require repealing and combining some of Washington's largest expenditures, among them Medicaid, with 2013 spending of $438 billion, and food stamps, with 2014 spending of $74 billion.
How the fund would work remains unclear.
Currently, states must help pay for programs such as Medicaid.
Cass, domestic policy director for 2012 Republican presidential candidate Mitt Romney, wrote an early version of the Flex Fund plan and discussed the idea with Rubio aides. He said states wouldn't be required to continue their own spending.
Cass said that unlike a traditional block grant, in which a fixed amount is allocated to states, the sum would vary as the needy population changed, and would grow with increases in the federal poverty threshold.
In "Reclaiming the American Dream," Rubio suggested that the amount would be capped at the level of the federal programs when they were repealed.
"States would decide how to spend the money, not Washington politicians or bureaucrats," Rubio wrote.
The details of Rubio's proposal for "wage enhancement" are also sketchy.
The program would be funded by repealing the earned-income tax credit.
That break, enacted under Republican President Nixon, provided more than 20 million poor working Americans $61 billion in 2014 and is the nation's largest needs-tested, anti-poverty, cash-assistance program.
The difference between the credit and Rubio's wage enhancement is that the credit is linked to annual income, even if a recipient only works for a short time and is unemployed and maybe not even looking for work the rest of the time. The enhancement is a supplement paid for each hour a person actually works. Proponents see it as a stronger incentive to get and hold a job.
The earned-income tax credit is paid only to poor workers with children. It's unclear whether Rubio's enhancement would apply also to the childless.
Rubio said in his policy document that the money "would be disbursed by the Treasury to individuals in monthly checks." Unsaid was how the department would know how much or to whom to make payments.
Some conservative economists also have taken issue with Rubio's tax proposal, made with fellow Republican Senator Mike Lee of Utah last month.
It would reduce the top rate on corporate income to 25 percent and consolidate individual brackets into two at 35 percent and 15 percent. The proposal would let businesses write off investments immediately and create the $2,500 credit for children, according to a summary.
The Tax Foundation, a nonpartisan research group that favors a simpler system, concluded that the Rubio-Lee plan would raise the incomes of the poor, rich and middle class and add 2.7 million jobs during the next decade.
Another nonpartisan research group based in Washington, the Tax Policy Center, said the plan would add trillions of dollars to the federal debt and that the tax cuts would favor high-income households. While that "may be red meat" to part of the Republican base, "it also makes the plan a political non-starter," the center said in a blog posting.
"There'll be a debate about this policy versus others, and we'll see how the Republican electorate responds," said David Winston, president of the Winston Group, a Washington strategy firm that does work for the party.
Before it's here, it's on the Bloomberg Terminal.
LEARN MORE