Bain Capital Hires Former Massachusetts Governor Deval Patrick
Devin Banerjee and Margaret Collins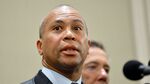 Bain Capital, the $75 billion private equity firm founded by 2012 Republican presidential nominee Mitt Romney, hired former Massachusetts Governor Deval Patrick to lead a social impact fund.
Patrick, 58, will oversee investments that target a financial return while seeking to have a positive social impact, according to a statement Tuesday from Boston-based Bain. He starts at the firm immediately and is its first black managing director.
"The idea of investing which focuses on both attractive returns and significant social impact is something I've been thinking about for a long time," Patrick said in a telephone interview. "Many investors, including Bain's investors, are asking for these kinds of projects. We said, 'Let's see if we can't build this together.'"
The hire is the latest by a private equity firm seeking to benefit from the expertise and relationships of former high-ranking government officials. Warburg Pincus in 2013 hired Tim Geithner, the U.S. Treasury secretary from 2009 to 2013, as the firm's president, and KKR & Co. named former Central Intelligence Agency director David Petraeus as chairman of a new unit for public policy, economic research and emerging-market due diligence at the private equity firm.
Staples, Dunkin'
Bain Capital, founded in 1984 by former Bain & Co. consultants, manages private equity and venture capital holdings, hedge funds and credit assets. It's invested in companies including Toys "R" Us Inc., Dunkin' Brands Group Inc. and Staples Inc.
Patrick, a Democrat, served two four-year terms as Massachusetts governor before leaving in January. His predecessor in the statehouse was Romney, 68, who's now chairman of private equity firm Solamere Group.
Steve Pagliuca, a managing director in Bain's private equity unit, ran unsuccessfully as a Democrat in a 2009 special election to replace Ted Kennedy, the U.S. Senator from Massachusetts.
The broader sustainable or socially responsible investment market, which includes impact investing, has steadily expanded, according to a February report by the Global Sustainable Investment Alliance. The size of the market grew 61 percent to $21.4 trillion at the start of 2014, from $13.3 trillion two years earlier, according to the group, which is comprised of seven sustainable-investment organizations.
$1 Trillion
The impact investing industry may reach $1 trillion by 2020, according to a 2010 report by JPMorgan Chase & Co. and the Rockefeller Foundation, which coined the phrase in 2007. Billionaires such as Jean and Steve Case, who co-founded AOL Inc.; EBay Inc. founder Pierre Omidyar; and Shari Arison, owner of Arison Investments, have put their money into impact investments.
Patrick, who said he'll spend several months working on a business plan before building the investment team, will focus on deals in the U.S. and is expected to look at the education, health, energy and environmental industries, as well as neighborhood development.
He said he's seen interest in impact investing from family offices, high-net-worth individuals, university endowments and public pension plans, as well as some sovereign wealth funds. It's too early to know the size of the planned fund, he said.
A graduate of Harvard College and Harvard Law School, Patrick was assistant attorney general of civil rights under President Bill Clinton. He previously practiced law and was general counsel at Texaco Inc. and Coca-Cola Co.
"He has unique insights into what creates real impact and drives ultimate success with social projects in underserved communities," Michael Ward, Bain's chief operating officer, said in the statement.
Before it's here, it's on the Bloomberg Terminal.
LEARN MORE