Will the GOP Get Behind Marco Rubio's Immigration Evolution?
The change in position that may have saved Marco Rubio's candidacy.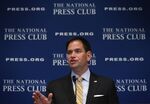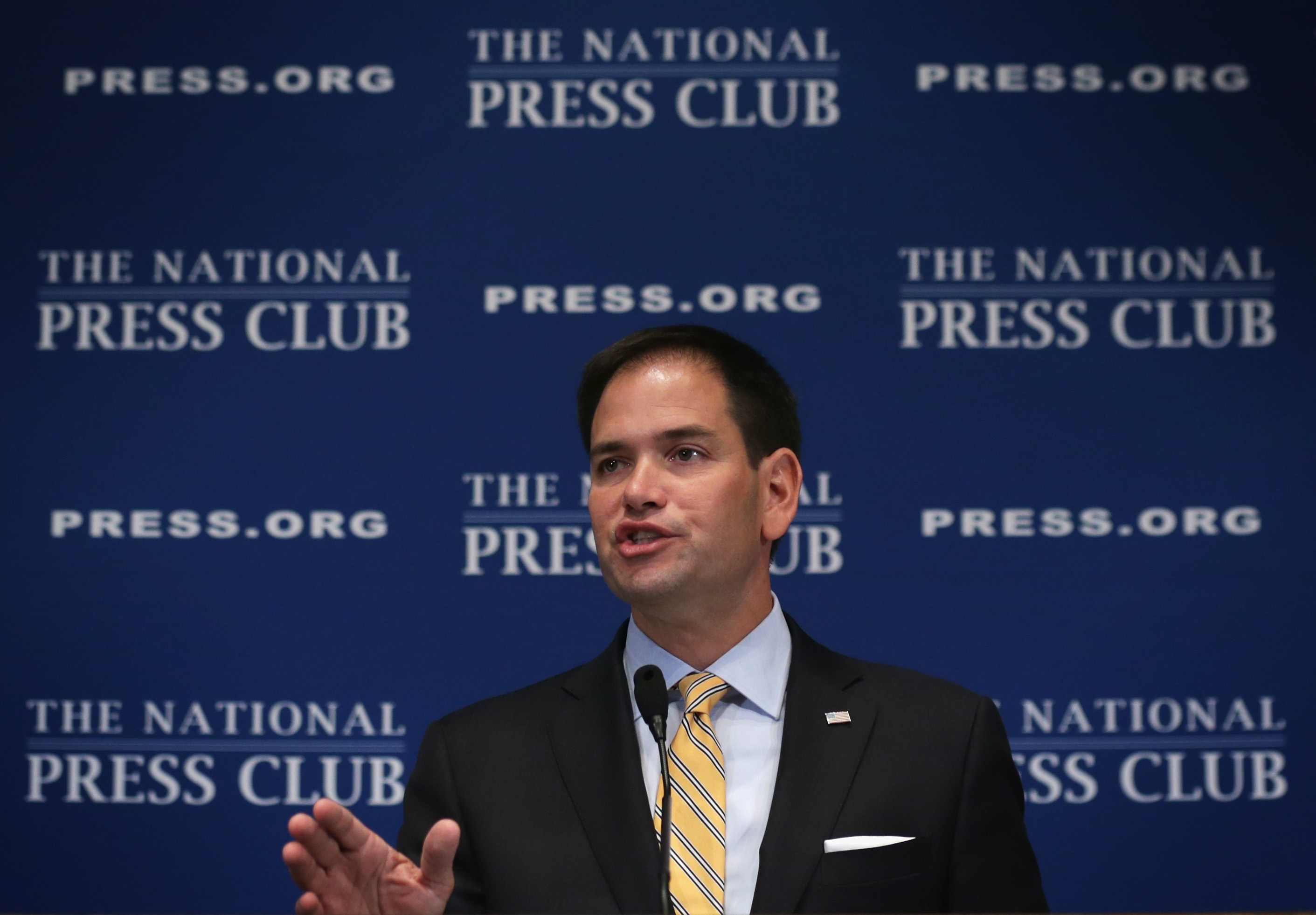 At one point, Florida Senator Marco Rubio seemed to make immigration reform part of his political resume. He was as a core member of the so-called bipartisan "Gang of Eight," who passed comprehensive immigration reform in the Senate. But he apparently hadn't gauged the issue's radioactivity with the GOP base. Rubio is now a member of the no-amnesty, no-nothing wing of the party—and he's a viable candidate.
1. Full-throated support
In April 2013, Rubio headlined a series of media events, including appearances on seven Sunday talk shows, to sell a bipartisan agreement that had been hashed out over months of negotiations. On CNN's State of the Union, he outlined one of his contributions: "I think part of my job is to explain to people what it is we've worked on, try to justify it and hopefully gain their support." Pre-empting conservative concerns over any pathway to citizenship, Rubio told Fox News Sunday that, "it will be cheaper, faster, and easier for people to go back home and wait 10 years than it will be to go through this process I've outlined. That's why it's not amnesty."
2. On the fence
By June, Rubio hadn't been seen in public with the rest of the "Gang of Eight" for two months and was pushing fellow Senators behind the scenes to hold their support from the bill, just days before a key vote, to try to get stricter border security measures inserted. "The [Gang's] members feel like they've given him quite a bit of rope," one Senate Democratic aide told Politico at the time. "They just want to make sure it doesn't end up hanging the deal at the end." Rubio's public embrace of a controversial border security amendment proposed by Texas Senator John Cornyn—described as a "poison pill" by "Gang of Eight" member Senator John McCain—earned him a stern talking-to from the rest of the bipartisan group. A few days later, Rubio went ahead and voted for the amendment anyway, marking the first time all eight senators failed to vote in unison on a matter relating to their bill. Despite growing tensions in the bipartisan coalition, Rubio went on Fox News to defend his participation in the process: "Look, it's obvious I didn't do this for political gain. This is not something that's going to gain me any parades. People are frustrated, and I do understand it. What I hope they understand is that I studied this issue carefully for almost two years and I concluded that what we have in place right now is a disaster."
3. Across the border
The "Gang of Eight" plan passed the Senate on June 27, 2013, but just two months later, Rubio told the Wall Street Journal that he would not vote for the same bill were it up for a vote then because it would be a "show vote" that "would set us back even further—taking an issue that's already divided people and actually going to stir the pot and poison the well even further." This came just days after Rubio sent President Obama a letter expressing alarm at his proposed executive actions on immigration and stating, "I have become convinced that there is no realistic path forward on comprehensive reform for the foreseeable future" but instead through "sequential pieces of legislation." By February of this year, Rubio joked to Fox News's Sean Hannity that the reform bill "wasn't very popular, I don't know if you know that from some of the folks here. You have 10 or 12 million people in this country, many of whom have lived here for longer than a decade, have not otherwise violated our law other than immigration laws, I get all that. But what I've learned is you can't even have a conversation about that until people believe and know, not just believe but it's proven to them, that future illegal immigration will be controlled."
Before it's here, it's on the Bloomberg Terminal.
LEARN MORE