The Definitive H&H Marco Rubio Scouting Report
The Florida senator is running for president.
by and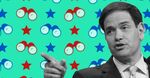 What he's got: A fresh (Hispanic) face; likability; compelling biography; rhetorical skills aplenty, showcased by an emotional, best-in-show stump speech; a smart, forward-thinking staff; an assortment of policies that, pieced together, arguably embody the substance and spirit of "reform conservatism" better than those of any other 2016er.
What he lacks: National name recognition; first-tier fundraising prowess; a record of national legislative accomplishments; executive experience; battle-testedness; early state strength; evident gravitas.
Biggest question mark: Will Republican voters be willing to cast their lot with a young, first-term senator to face off against Hillary Clinton?
Message: A new generation of conservative leadership to challenge the status quo.
Signature issues: Foreign policy realism; tax reform; education.
Core constituencies: Tea Partiers, with potential to grow with Hispanics, younger voters, and women once he is better known.
Fundraising mojo: Solid second-tier (as of now) in bundling, super-PAC, and grassroots buck-raking potential, with the possibility of breaking out in all three areas.

Spouse and family: Story of his immigrant parents so far playing a larger role in his preferred campaign narrative than his young children and spotlight-averse wife.
Perceived electability as GOP nominee: On paper, intriguing, but current polling doesn't suggest a juggernaut; must prove he can win substantial Latino support in battleground states against a Democrat (and Clinton in particular).
National-security credentials: Has immersed himself intellectually in foreign policy from his Senate perch, but has limited hands-on experience.
Television skills: Pleasant and consistent, but overly earnest and low-wattage at times.
Social media/online chops: Abundance of followers, including on Twitter, with a good record of quality content; needs to translate that into fundraising and voter activation.
Media coverage: Beloved by bookers and profile writers, earns a high percentage of stories that are favorable and on-message, and benefits from buzz generated by party elites wowed by his brand and delivery.
Polling strength: Still not well known enough even in early voting states to break out.
 The Big Mo: Has had, along with Scott Walker, the best 2015 so far—and poised to get a serious look from Republican establishmentarians wary of nominating a(nother) Bush.
Fire in the belly: A very hard worker, but questions linger about his staying power if the path gets rocky.
The hang test: First-rate retail campaigning skills, friendly, non-imperious, and low-key; comes across, appealingly, much more as "Marco" than as "Senator Rubio."
Challenges party orthodoxy: Focus on revamping anti-poverty programs such as the Earned Income Tax Credit veers outside the conventional Republican playbook, and his tax reform plan's prioritization of breaks for families with children and for businesses rather than across-the-board cuts—and, in particular, its failure to reduce the current top tax rate on personal income—has earned him hits from Wall Street Journal editorial page and an array of supply-siders. 
Best moment of 2016 cycle so far: When he convinced political and media elites he was a first-tier candidate, even with Jeb Bush in the race.
Worst moment of 2016 cycle so far: About-face on comprehensive immigration reform left all sides cross with him and undermined his reputation for political courage.
Best Bloomberg Politics moment: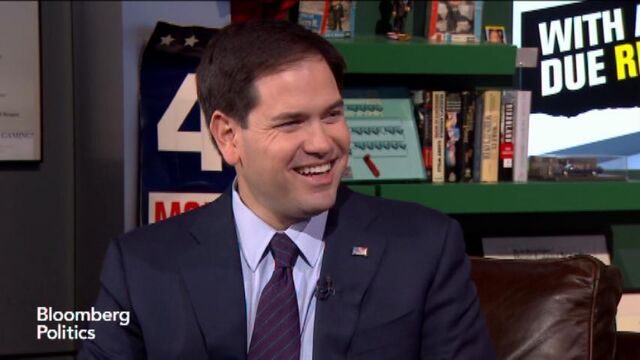 Picture he doesn't want you to see: Any shots with David Rivera, the scandal-plagued former Florida congressman with whom he was fast friends.

—Arit John contributed to this report.
Before it's here, it's on the Bloomberg Terminal.
LEARN MORE