Rubio: I've Done More on Immigration Than Hillary Clinton
Rubio said Clinton has only ever given speeches on immigration, but never tried to pass legislation.
by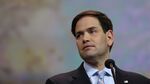 Marco Rubio, the latest Republican to enter the presidential race, has a short and simple response for critics of his work on immigration: At least I'm not Hillary.
During a Monday interview with NPR's "Morning Edition" tied to the launch of his presidential campaign, Rubio defended his decision to retract his support for the 2013 comprehensive immigration reform bill by arguing that trying and failing is more than Hillary Clinton did. 
"Well, I don't know about the [other Republican presidential candidates], but I've done more on immigration than Hillary Clinton ever did. I mean I helped pass an immigration bill out of a Senate dominated by Democrats," Rubio said. "She's given speeches on it, but she's never done anything on it." 
When Congress attempted to pass a bipartisan immigration reform bill in 2013, Rubio started off as a member of the Gang of Eight—four Republicans and four Democrats who worked together on a deal. However, as the deal grew more unpopular the with Republican base, Rubio threatened to withdraw his support if the deal's border regulations weren't strengthened.
Eventually he withdrew his support and argued that it was impractical to pass one giant bill, especially while President Obama is still in office, a position he holds today. "I honestly believe that the key to moving forward on immigration is to first and foremost prove to the American people that we are going to bring future immigration under control," Rubio told NPR.
Rubio went on to say that the GOP's problem with minority voters is that it has been portrayed as a party that doesn't care about people trying to make it in America. "I don't think people go to the ballot box and say I'm a Latino therefore I'm voting Democrat," he said. "I think they bring with them their hopes and dreams about the future and they vote for whoever they think best understands it."
Rubio's interview with NPR was released as he prepared to launch his presidential campaign on Monday in Miami. At one point Rubio discussed his run-in with fellow Floridian and likely presidential candidate Jeb Bush on an airplane last week. The two ended up sitting next to each other on a flight to Miami from Nashville, where the National Rifle Association's annual convention was held. 
Rubio said they made some "observations" about the 2016 election, "but we talked about the Masters, we talked about the Paleo Diet, about the Miami Dolphins, I mean we reminisced about old war stories from when I was in the legislature and he was governor," Rubio said. 
He stressed that the two are friends, and that he doesn't see himself as running against any candidate. "There will certainly be moments when others will try to draw distinctions, but in my mind I'm going to talk about who I am and what I want to do, and I'll let voters make the decision of who they think is most capable at this moment of leading of country," he said. If that strategy doesn't help him win the Republican presidential nomination, at the very least it might help him for the #2 job.
Before it's here, it's on the Bloomberg Terminal.
LEARN MORE