Friend, Mentor or Rival? A Marco Rubio-Jeb Bush Relationship Timeline
The Florida Senator and former governor have a long relationship.
undefined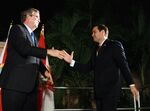 The relationship between the two Florida political heavyweights has had a few incarnations in its nearly two decades. Here's how one Democratic state lawmaker during the two mens' Tallahassee careers characterized their relationship: "Jeb was the general and Marco was the smartest lieutenant." Then here's how a lobbyist who worked for Rubio at the time put it: "It wasn't just a governor-legislator relationship. It was deeper than that."  Below, how things progressed.
1. In 1998, Jeb Bush, then a gubernatorial candidate, wrote a $50 campaign check to Rubio, then running for West Miami city commissioner, and called him on Election Night to congratulate him on his victory.
2. In 2005, then-Governor Jeb Bush presented Rubio with a ceremonial sword to commemorate his elevation to speaker of the Florida House of Representatives. "I'm going to bestow to you the sword of a great conservative warrior," Bush said, after reciting an enigmatic passage about a Chinese warrior favored by his father, President George H. W. Bush.
Chang is a mystical warrior. Chang is somebody who believes in conservative principles, believes in entrepreneurial capitalism, believes in moral values that underpin a free society. I rely on Chang with great regularity in my public life. He has been by my side and sometimes I let him down. But Chang, this mystical warrior, has never let me down.
3. Bush agreed to write a forward to Rubio's 2006 book 100 Innovative Ideas for Florida's Future.
4. In his 2012 memoir An American Son, Rubio describes Bush as "the man I most admired in Florida politics" and praised him for his "bold leadership."
5. The two men were  photographed laughing heartily on Mitt Romney's plane during the 2012 presidential campaign.
6. In December, Bush called Rubio to let him know that he was forming a 2016 exploratory committee.
7. In a February interview with the Washington Post, Rubio tried to clarify the extent of his connection to Jeb Bush by saying that "I wouldn't diminish the relationship or exaggerate it," but that "I never worked for him."
8. The two men sat next to each other on the same Miami-to-Nashville flight after separately speaking at the National Rifle Association's annual convention in April.
Before it's here, it's on the Bloomberg Terminal.
LEARN MORE