De Blasio's Hot-and-Cold Relationship With the Clintons Continues
His big break came in 2000, when he served as Hillary Clinton's campaign manager.
by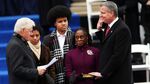 Among prominent New York Democrats, Hillary Clinton already has the backing of New York Governor Andrew Cuomo, Senator Charles Schumer and Girls creator Lena Dunham. Missing from that list is New York City Mayor Bill de Blasio, who, out of everyone, may have benefited the most from a leg-up from the Clintons. 
Appearing on NBC's Meet the Press in the lead-up to Clinton's formal entrance into the presidential race on Sunday, de Blasio told host Chuck Todd that he was holding off on endorsing Clinton until he knows more about her platform.
"I think, like a lot of people in this country, I want to see a vision," de Blasio said. "I would say this about any candidate." 
De Blasio worked as Clinton's campaign manager, one of his first high-profile gigs in politics, when she was running for Senate in 2000. It wasn't the best fit, and turned out to be his last job as an operative before running for City Council, according to the New York Times. Though he was in charge of her campaign, de Blasio found that access to Clinton was limited, as she dealt mostly with aides she knew from the White House. 
The Clintons stayed out of the the New York mayoral primary, partly because Clinton aide Huma Abedin's husband, Anthony Weiner, was a candidate. They also had ties to Christine Quinn, the City Council speaker who had looked like the primary favorite. But after de Blasio won the nomination, he himself touted his ties to the Clintons, saying they had called to endorse him. 
"They both offered extraordinarily helpful advice," Mr. de Blasio said at the time. "I am proud to come from the Clinton family."
At de Blasio's inauguration, Bill Clinton administered the oath of office.
Just last week, Hillary Clinton was in Brooklyn to lend her profile to an event with Chirlane McCray, de Blasio's wife. The two discussed childcare at a facility in Brownsville. 
Correction: This story was updated to correct the spelling of Chirlane McCray's name.
(Updates previous version of this story with corrected spelling of Chirlane McCray's name.)
Before it's here, it's on the Bloomberg Terminal.
LEARN MORE