The Very Valuable Words of Hillary Clinton
A not-quite-comprehensive list of the Democratic candidate's paid speeches since she stepped down as Secretary of State, from Dallas to Atlantic City and points beyond and between—with fees where available.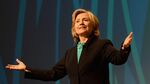 Hillary Clinton's quiet years between her tenure at the State Department and the announcement of her candidacy actually haven't been quiet at all. She's been barnstorming like a rock star, and earning staggering fees. Below are some of the stops on her tour.
March 19, 2015: American Camp Association in Atlantic City
"I think we have a fun deficit in America."
March 11, 2015: eBay's Women's Initiative Network Summit in California (An unannounced speech)
 Feb. 24, 2015: Lead On: Watermark's Silicon Valley Conference for Women in Santa Clara ($300,000)
"There has never been a better time to be a woman in the history of the world."
Then a Q. & A. with Kara Swisher of Re/code:
 Oct. 13, 2014: University of Nevada Las Vegas Foundation gala at the Bellagio ($225,000)
 Oct. 6, 2014: Canada 2020 luncheon in Ottawa
 June 02, 2014: 1stBank Center in Broomfield, Colo.
 April 23, 2014: Edmund Fusco Contemporary Issues Forum at the University of Connecticut in Storrs, Conn. ($251,250)
 April 23, 2014: Simmons College's Leadership Conference in Boston
 April 11, 2014: Western Health Care Leadership Academy in San Diego
 April 10, 2014: Institute of Scrap Recycling Industries at Mandalay Bay in Las Vegas
 April 9, 2014: The Marketing Nation Summit in San Francisco
 April 8, 2014: World Affairs Council in Portland, Ore.
 March 18, 2014: Montreal Board Of Trade in Montreal, Canada
 March 5, 2014: Vancouver Board of Trade in Vancouver, Canada
 March 5, 2014: Luskin Lecture for Thought Leadership at UCLA ($300,000)
 Feb. 26, 2014: HiMss2014 in Orlando
 Feb. 26, 2014: University of Miami in Florida

 Jan. 27, 2014: National Automobile Dealers Association Convention & Expo in New Orleans
 Nov. 20, 2013: U.S. Green Building Council in Philadelphia
 Nov. 9, 2013: National Realtors Association in San Francisco
 Oct. 29, 2013: Builders and Innovators Summit at Goldman Sachs ($200,000)
 Oct. 27, 2013: Beth El Synagogue National Speaker Series in St. Louis Park
 Oct. 25, 2013: Colgate University in Colgate, NY
 Oct. 24, 2013: AIMS Alternative Investment Conference at Goldman Sachs ($200,000)
 Oct. 23, 2013: Distinguished speaker series at State University of Buffalo ($275,000)
"No state funding or student tuition revenue is used to fund the Distinguished Speakers Series and the fees of guest speakers, including that of Secretary Clinton, university officials said."  
 Oct. 15, 2013: National Association of Convenience Stores in Atlanta
 Oct. 04, 2013: Hamilton College in Hamilton, NY
 Sept. 19, 2013: American Society of Travel Agents Convention in Miami
 Sept. 18, 2013: Chicago House Speaker Series in Chicago
 Sept. 18, 2013: American Society for Clinical Pathology in Chicago
 Sept. 9, 2013: Carlyle Group's investor conference in Washington D.C.
 Sept. 8, 2013: American Society for Clinical Pathology annual meeting in Chicago
 Aug. 12, 2013: National Association of Chain Drug Stores in Las Vegas
 Aug. 7, 2013: The Global Business Travel Association in San Diego
 June 17, 2013: Economic Club of Grand Rapids in Grand Rapids, MI
 June 16, 2013: Society for Human Resource Management in Chicago 
 June 4, 2013: KKR's annual investment meeting in Los Angeles
 April 30, 2013: Fidelity Executive Forum, Naples, FL
 April 24, 2013: National Multi Housing Council, Dallas (Her first paid speech since stepping down as Secretary of State.)
Before it's here, it's on the Bloomberg Terminal.
LEARN MORE