Rand Paul's Anti-Hillary Ad Blitz
Also featuring Doctor Octopus-style hook arms splayed in front of the Capitol.
by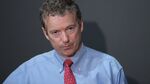 Kentucky Senator Rand Paul welcomed Hillary Clinton to the presidential race with a 60-second ad, running in the first four primary states starting tomorrow. (Paul's campaign would not reveal the size of the ad buy.) It portrays a Hillary-led America as a grayscale dystopia, the "worst of the Washington machine," then segues into clips from Paul's announcement tour.
The "machine," visualized as some Doctor Octopus-style hook arms splayed in front of the Capitol, is one of Paul's oldest themes.
Like the other Republican responses to Clinton's entry, Paul's video was cut with the knowledge that Hillary would announce, but not how she would do so. She launched with what even critics might admit is a surprisingly warm, inventive video, the candidate appearing only after 90 seconds of stories from average people. There are no cheering crowds for Clinton, just a straight-to-camera shot of her in front of her home. By contrast, Carly Fiorina went for a stream-of-consciousness riff on how Clinton lacks "a track record of leadership or trustworthiness." Jeb Bush went with boilerplate ("every American deserves the right to rise.") Rick Santorum went for a Paul-esque dystopia video, complete with John Carpenter sound-a-like music.
Before it's here, it's on the Bloomberg Terminal.
LEARN MORE