Hillary Clinton Gets Ready to Jump In—And Everyone's Got an Opinion
She takes flak from the left and right.
by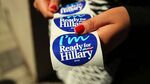 As Hillary Clinton prepared to enter the 2016 presidential race on Sunday, she took flak from the right and left—and found a few admirers in a political world that's been expecting this day for years. 
Clinton is expected to announce her intentions in an afternoon video delivered via social media.
2016 Republicans
Kentucky Senator Rand Paul, who announced his presidential campaign last week, attacked the Democrat as untrustworthy. He has hammered the Clinton family foundation on foreign donations, and the former secretary of state on her exclusive use of private e-mail in that office, as he tries to portray himself as an electable Republican option.
"I do think that there is sort of a history of the Clintons sort of feeling like they're above the law," Paul said on CNN's State of the Union, according to a transcript from the network. "They said they weren't going to take donations, you know, for the Clinton Foundation during the period of time she was secretary of state and there are questions whether they did. Since then, there are questions of them taking millions of dollars from Saudi Arabia, from the sultan of Brunei, countries really have an abysmal human rights record and women's rights record. ... So it does really—it makes it difficult to—for her message to appear sincere when she's taking money from these foreign countries."
Paul also dismissed the notion that he would change his approach to debating Clinton because she's a woman—comments coming after he faced questions about how he interacts with women and the media. "I would treat her with the same respect that I would treat a man," he said.
Paul's campaign said Sunday it is taking the anti-Clinton message to the key nominating states of Iowa, New Hampshire, South Carolina, and Nevada, where a minute-long advertisement is set to run on cable television starting Monday.
Former Florida Governor Jeb Bush, who is expected to announce his bid for the Republican nomination later this year, sought to link Clinton to President Barack Obama and urged a change in the country's direction.
"We must to do better than the Obama-Clinton foreign policy that has damaged relationships with our allies and emboldened our enemies," Bush said in a video released by his political action committee.
Former Arkansas Governor Mike Huckabee pointed to his ties to Bill Clinton's home state, saying he knows what it takes to campaign against the Clintons' operation.
"Every race I ever had, I ran against their—I ran against their machinery, I ran against their money, and frankly both Bill and Hillary came back and campaigned personally in the state for every opponent I ever had," he said on ABC's This Week. "They play to win and anyone who thinks that she's going to get into this half-heartedly, well they've never ever encountered the will, the spirit, the heart, and the determination of the Clinton political machinery."
Republican National Committee Chairman Reince Priebus—leader of the party, though not a presidential candidate himself—appeared on CBS's Face The Nation and said that as a senator, Clinton paid her female employees less than her male ones. The Washington Free Beacon in February reported that Clinton's female staffers earned 72 cents for every dollar that male staff members earned, from a comparison of median salaries. 
"She can't have it both ways. She can't pay women less in her Senate office and claim that she is for equal pay," Preibus said.
Democrats—past, present, and future
Former Rhode Island Governor and Senator Lincoln Chafee, a Republican-turned-Democrat who launched his own presidential exploratory effort last week, said Clinton's support for the Iraq War would be one of the chief motivations for him to run.
"She didn't do her homework and we live with the ramifications today," Chafee said on CNN. "And so you might say, 'Oh, it's 12 years ago,' but we live with it today, and it's a big motivator for why I'm running. If you show lack of judgment, lack of doing your homework then, what can we expect in the future."
New York City Mayor Bill de Blasio, the self-described progressive who managed Clinton's successful 2000 campaign for the U.S. Senate, said he would withhold endorsing her presidential candidacy until he hears her support a set of policies consistent with his agenda.
"We're going to be saying if you're serious, you have to be willing to tax the wealthy, you've got to be ready to raise wages and benefits, you have to be ready to have tax fairness in this country," de Blasio said on NBC's Meet the Press.
De Blasio said Clinton must enunciate specific policies to deal with the fact that since the economic recovery from the financial crisis of 2008, 95 percent of all additional earnings have gone to the wealthiest 1 percent in the U.S.
"She is one of the most qualified people to ever run for this office," de Blasio said. "But we need to see the substance."
Two of Clinton's former Democratic Senate colleagues said she should stick to her guns.
"If Hillary will just be Hillary, and if we will all allow her to just be the extraordinary leader that she is, her campaign is going to beautifully, beautifully done," said Mary Landrieu, who lost her Louisiana seat last year, on CNN.
"From a Michigan standpoint, I'd say just keep speaking out, keep fighting, keep doing what you've been doing," said incumbent Debbie Stabenow of Michigan on CNN.
Senator Amy Klobuchar of Minnesota said on CBS that "people want to hear her [Clinton's] vision for America."
Even Secretary of State John Kerry, the 2004 Democratic nominee, weighed in with praise for his predecessor's diplomatic record, while noting he tries to stay above the fray of electoral politics now.
"It's important for me to be able to speak to both sides of the aisle and talk about our foreign policy without being involved in partisan politics. And so I'm not going to get involved in it now," Kerry said on ABC, according to a transcript from the network. "But I will say that Secretary of State Clinton did a terrific job of rebuilding alliances that had been shredded over the course of the prior years. She spent a lot of time, as you know, working on a number of different issues, including the beginning of the effort with Iran, as well as the Gaza cease-fire and other things."
Henry Goldman contributed to this report.
CORRECTION: An earlier version of this story should have quoted de Blasio as saying "you've got to be ready to raise wages and benefits."
Before it's here, it's on the Bloomberg Terminal.
LEARN MORE