Obama Deputies to Brief Skeptical Congress on Iran Nuclear Deal
David Lerman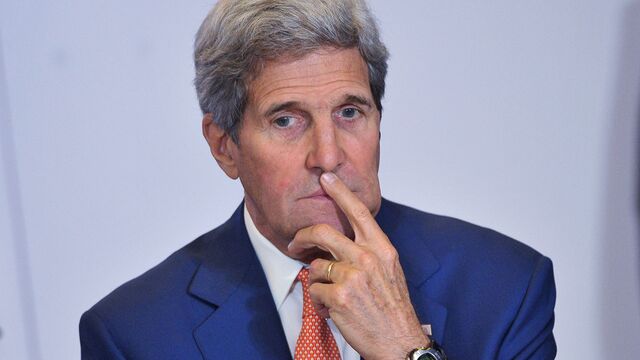 President Barack Obama will dispatch three cabinet members to brief skeptical lawmakers this week on the outlines of a deal with Iran that would trade nuclear restrictions for a lifting of economic sanctions.
Secretary of State John Kerry, Treasury Secretary Jacob J. Lew and Energy Secretary Ernest Moniz will hold a closed-door meeting on Monday for members of the House of Representatives, according to Lew's published schedule. A similar briefing for senators will be held Tuesday. Lawmakers return to Washington this week after a two-week recess.
The meetings give Obama's administration a chance to explain to lawmakers in person the particulars of the nuclear deal and continuing negotiations with Iran for the first time since the framework of an accord was announced April 2 in Lausanne, Switzerland.
A Senate committee is about to take up a bill that would give Congress 60 days to review any final agreement with Iran before any congressional sanctions could be suspended or lifted.
Kerry used appearances on three U.S. television talk shows Sunday to plead again for congressional restraint, saying the White House should be allowed to negotiate the final terms of a deal before lawmakers weigh in. Negotiators for the U.S., five other world powers and Iran have until June 30 to reach a final accord.
"People need to hold their fire, let us negotiate without interference and be able to complete the job over the course of the next two and a half months," Kerry said on CBS's "Face the Nation."
"We've earned the right to be able to try to complete this without interference and certainly without partisan politics," he said.
Senate Legislation
Senator Robert Menendez, a Democrat from New Jersey who has criticized the White House's policy on Iran, said Congress has a "duty" to review the deal and decide whether or not to back it. He rejected the idea of a non-binding resolution.
The chief sponsor of the bill requiring a binding vote by Congress, Republican Senator Bob Corker of Tennessee, said last week he's within a few votes of being able to override a threatened presidential veto of his legislation.
Corker, chairman of the Foreign Relations Committee, has predicted "strong, bipartisan support" when his panel takes up the bill on Tuesday. Republican leaders have yet to say when the measure might be taken up by the full 100-member Senate.
Kerry sought to downplay discrepancies between the U.S. and Iran on terms of the preliminary deal that have emerged since the accord was announced.
Discrepancies, Spin
"The same kind of discrepancies or spin" followed an interim agreement in 2013 that placed curbs on Iran's nuclear program in exchange for limited sanctions relief, and Iran has kept the terms of that accord, Kerry said.
His remarks came three days after a different interpretation of the Lausanne deal from Iran's supreme leader, which raised doubts about whether a final accord can be negotiated.
Ayatollah Ali Khamenei said economic sanctions must be lifted as soon as an accord is signed, while Kerry has said sanctions would be lifted "in phases" after international inspectors verify Iran's compliance with its nuclear obligations.
Khamenei also said Iran's military facilities will remain off-limits to inspectors, while the U.S. and other world powers have said inspections would be unfettered and unrestricted.
Arizona Senator John McCain, the Republican chairman of the Senate Armed Services Committee, pointed to the discrepancies in a radio interview over the weekend, saying "the ayatollah is probably right and John Kerry is delusional."
Obama, speaking at a press conference in Panama on Saturday, said McCain's comments show "the degree to which partisanship has crossed all boundaries."
Before it's here, it's on the Bloomberg Terminal.
LEARN MORE