How Has Hillary Clinton Performed With Her Back to the Wall?
One measure of a politician is what she says in a crisis. Here are five times when Hillary was tested.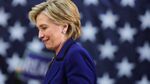 The Gennifer Flowers scandal: Interview with Steve Kroft, 60 Minutes, 1992
"There isn't a person watching this who would feel comfortable sitting on this couch detailing everything that ever went on in their life or their marriage. And I think it's real dangerous in this country if we don't have some zone of privacy for everybody. ... You know, I'm not sitting here—some little woman standing by my man like Tammy Wynette. I'm sitting here because I love him, and I respect him, and I honor what he's been through and what we've been through together. And you know, if that's not enough for people, then heck, don't vote for him."
The Monica Lewinsky scandal: Interview with Matt Lauer, Today, 1998
"We're right in the middle of a rather vigorous feeding frenzy right now. And people are saying all kinds of things, and putting out rumor and innuendo. And I have learned over the last many years, being involved in politics, and especially since my husband first started running for president, that the best thing to do in these cases is just to be patient, take a deep breath and the truth will come out. ... I think the important thing now is to stand as firmly as I can and say that, you know, the president has denied these allegations on all counts, unequivocally. And we'll see how this plays out. I guess everybody says to me, how can you be so calm? Or how can you just, you know, look like you're not upset? And I guess I've just been through it so many times. I mean, Bill and I have been accused of everything, including murder, by some of the very same people who are behind these allegations. So from my perspective, this is part of the continuing political campaign against my husband. ... I do believe that this is a battle. I mean, look at the very people who are involved in this. They have popped up in other settings. This is—the great story here for anybody willing to find it and write about it and explain it is this vast right-wing conspiracy that has been conspiring against my husband since the day he announced for president. A few journalists have kind of caught on to it and explained it. But it has not yet been fully revealed to the American public. And actually, you know, in a bizarre sort of way, this may do it."
Address to supporters after losing the Iowa Caucuses, January 2008
"I am as ready as I can be after having had this incredible experience here in Iowa. ... What is most important now is that as we go on with this contest, that we keep focused on the two big issues, that we answer correctly the questions that each of us has posed: How will we win in November 2008 by nominating a candidate who will be able to go the distance and who will be the best president on day one. I am ready for that contest. Now, you know, we have always planned to run a national campaign all the way through the early contests, because I want the people of America, particularly Democrats and like-minded independents and Republicans who have seen the light, to understand, number one, that the stakes are huge, that the job is enormous, but that I believe that we are going to make the right decision. ... I am so ready for the rest of this campaign, and I am so ready to lead."
Benghazi, testimony before the Senate Foreign Relations Committee, January 2013
"As I have said many times since September 11, I take responsibility. Nobody is more committed to getting this right. I am determined to leave the State Department and our country safer, stronger, and more secure. ... Let's start on the night of September 11 itself and those difficult early days. I directed our response from the State Department and stayed in close contact with officials from across our government and the Libyan government. So I saw firsthand what Ambassador Thomas Pickering and former Chairman of the Joint Chiefs of Staff Admiral Mike Mullen called "timely" and "exceptional" coordination. No delays in decision-making. No denials of support from Washington or from the military. ... For me, this is not just a matter of policy, it's personal. I stood next to President Obama as the Marines carried those flag-draped caskets off the plane at Andrews. I put my arms around the mothers and fathers, sisters and brothers, sons and daughters. It has been one of the greatest honors of my life to lead the men and women of the State Department and USAID."
And, later, in her memoir "Hard Choices": "Those who exploit this tragedy over and over as a political tool minimize the sacrifice of those who served our country. I will not be a part of a political slugfest on the backs of dead Americans. It's just plain wrong, and it's unworthy of our great country. Those who insist on politicizing the tragedy will have to do so without me."
The private-e-mail scandal, U.N. press conference, February 2015
"When I got to work as secretary of state, I opted for convenience to use my personal e-mail account, which was allowed by the State Department, because I thought it would be easier to carry just one device for my work and for my personal emails instead of two. Second, the vast majority of my work e-mails went to government employees at their government addresses, which meant they were captured and preserved immediately on the system at the State Department. ... Third, after I left office, the State Department asked former secretaries of state for our assistance in providing copies of work-related e-mails from our personal accounts. I responded right away and provided all my e-mails that could possibly be work-related, which totaled roughly 55,000 printed pages ... At the end, I chose not to keep my private personal e-mails—e-mails about planning Chelsea's wedding or my mother's funeral arrangements, condolence notes to friends as well as yoga routines, family vacations, the other things you typically find in inboxes. No one wants their personal e-mails made public, and I think most people understand that and respect that privacy. ... Again, looking back, it would've been better for me to use two separate phones and two e-mail accounts. I thought using one device would be simpler, and obviously, it hasn't worked out that way."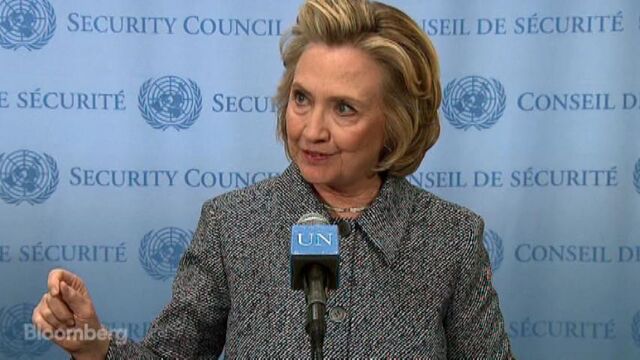 Before it's here, it's on the Bloomberg Terminal.
LEARN MORE