Hillary Clinton Makes it Official: 'I'm Running for President'
"When families are strong, America is strong," the Democrat says in a video.
by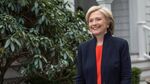 Former Secretary of State Hillary Clinton ended the suspense on Sunday afternoon, announcing that she will seek the White House in 2016.
"I'm running for president," said Clinton, a Democrat who would become the nation's first female commander-in-chief, in a Web video. 
"Americans have fought their way back from tough economic times, but the deck is still stacked in favor of those at the top," she continued in a clear appeal to the progressive wing of her party, which includes many people clamoring for Senator Elizabeth Warren to enter the race. "Everyday Americans need a champion, and I want to be that champion. You can do more than just get by. You can get ahead, and stay ahead. Because when families are strong, America is strong." 
Clinton said she is "hitting the road to earn your vote" and her first stops on will be in Iowa, the state where she came in third in the 2008 caucuses. On Tuesday, she'll participate in a roundtable at Jones County Regional Center of Kirkwood Community College, in the northeast corner of the state. On Wednesday, she'll visit Capital City Fruit, just outside Des Moines. She'll also meet with elected officials, community leaders, activists and others while in the state. She's then expected to head to New Hampshire and South Carolina.
Clinton plans to spend the next six to eight weeks in a "ramp up" phase, reaching out to voters in early voting states and building up grassroots support nationwide, her campaign said. In May, once supporters are organized and able to host watch parties, Clinton "will hold her first rally and deliver the speech to kick off her campaign."
While Clinton was the center of attention on Sunday, her team made conscious efforts to put voters and key supporters first. The web video runs more than 90 seconds before Clinton makes her first appearance. The video was filmed across the country, including in Iowa and New Hampshire, and features a diverse mix of Americans, including a young mother, a college student, Spanish-speakers, and male and female same-sex couples.
The first official word of her candidacy, meanwhile, came not from her but from campaign chairman John Podesta in e-mails to Clinton campaign alumni and donors sent minutes before the video was posted online. Her website, HillaryClinton.com, was updated at 3 p.m. ET with the video and the early stages of her campaign site, which includes forms to join her mailing list and to donate to her campaign.
The campaign that Clinton rolled out Sunday will both lean forward and look back: She'll rely heavily on digital technology, as her embrace of Twitter and her social-media launch highlight. But she'll also reach back to the "listening tour" technique that successfully propelled her into elected office a decade and a half ago to reintroduce herself to voters in early primary states.
Her campaign has signaled that Clinton's first events will not be the kind of massive rallies or keynote speeches that her husband, former President Bill Clinton, or her 2008 rival, Barack Obama, made set pieces of their campaigns. Aides are working to set up so-called pool coverage—a small group of reporters who share notes and recordings with the larger press corps—indicating that Clinton will prefer living rooms to gymnasiums for her first foray on the campaign trail.
It's a tactic that worked for her in her New York Senate bid, and it's made for the early caucus and primary states of Iowa and New Hampshire, where voters are notorious for demanding up-close and personal contact with would-be presidents. And it plays to Clinton's strengths: She is a politician whose forte has been the intimate conversation, not the stemwinder. Her husband and Obama shone on the stump, then flubbed relations with Congress. Clinton, on the other hand, surprised many with her ability to win over likely enemies as a senator. She persuaded then-President George W. Bush stand firm on a large post-9/11 aid package for her state and cosponsored legislation with conservative Republicans such as Senator Lindsey Graham of South Carolina and then-House Majority Leader Tom DeLay.
Translating personal charm into a national campaign tactic will be the challenge for Clinton, but digital technology has a way of amplifying the intimate, and Clinton has embraced it, becoming a star of Twitter (which had just eight employees the last time Clinton ran for the White House) and locating her campaign headquarters in Brooklyn (even though she's chosen establishment Brooklyn Heights over hipper environs). At the same time, she's made it clear she will try to turn two potential campaign liabilities into assets: age and gender. Instead of hoping voters won't notice, she's calling attention to both.
"Becoming a grandmother has made me think deeply about the responsibility we all share as stewards of the world we inherit and will one day pass on," the 67-year-old Clinton, whose daughter Chelsea recently gave birth to her first child, wrote in a new epilogue to her book Hard Choices, published Friday at the Huffington Post. "Rather than make me want to slow down, it has spurred me to speed up." 
Since launching her own Twitter account in June 2013, Clinton had just 146 tweets and followed just nine accounts but had racked up 3.14 million followers, dwarfing by millions the follower counts of all her potential Republican opponents. Senator Marco Rubio has the largest following: 700,000. On Sunday, she updated her Twitter biography, changing the "TBD" at the end of it to "2016 presidential candidate." Her campaign also launched a Facebook page, which had racked up nearly 500,000 likes in its first hour, as well as state-based Twitter accounts in several key states.
Technology could give Clinton the means to communicate her personal touch beyond the states where she'll focus most of her time, Iowa and New Hampshire, and to all 250 million Americans of voting age. It's important for Clinton and other candidates "to remember the enormous value of engaging with their digital audiences, in addition to using digital tools primarily as a one-way communications vehicle," said Democratic strategist Tracy Sefl, who advised Ready for Hillary, the political action committee that worked to gin up interest before Clinton's official campaign launch. That means that Clinton will need to use social media in particular to interact with voters, respond to them, thank them, share photos and more, one Democrat suggested.  
"Everything has changed" since Clinton last ran for president, said Zac Moffatt, Mitt Romney's 2012 digital director. "The size of the audience is so much bigger. There's a lot less friction—it's easier to get people involved quicker."
A single click will sign someone up for her Facebook page and another click from there leads to a signup for her mailing list. A minute or two more yields a campaign contribution.
In the early stages of her campaign, Clinton plans to take the same approach on the trail that helped New Yorkers see the then-first lady as their future senator back in 2000. She tirelessly worked her way through diners and living rooms to hear voters' concerns and make personal connections. Despite the inevitable entourage trailing her, she worked to project humility and a desire to earn every vote.
Clinton's approach to staffing for 2016 looks more like 2000 than 2008. Rather than simply relying on loyalists—though there are plenty on board—she's brought on operatives who had never worked for her before but have the expertise to run a winning campaign. In 2000, that meant hiring experts who knew New York politics, including Bill de Blasio as campaign manager and Howard Wolfson as communications director. This time, it means hiring Google executive Stephanie Hannon as chief technology officer and Teddy Goff, a key Obama digital strategist.
Goff is far from the only staffer Clinton is borrowing from Obama. Her campaign's chief strategist Joel Benenson worked for both Obama campaigns, as did media adviser Jim Margolis and many other staffers further down the campaign hierarchy. 
Beyond individual staffers, Clinton is also drawing on Obama's no-drama approach to staffing. In a manifesto given to staff on Saturday, campaign manager Robby Mook stressed humility, teamwork and discipline, the same principles that drove the Obama team. "This campaign is not about Hillary Clinton and not about us—it's about the everyday Americans who are trying to build a better life for themselves and their families," he wrote. All that was missing was the Obama staff's motto, "Respect. Empower. Include."
Also borrowed from Obama—and also a bit new—is Clinton's reliance on data and technology. Obama far outpaced her in digital fundraising and organizing during the 2008 primaries, but by hiring as many as 1,000 tech staffers, she is aiming to surpass him.
In his 2008 campaign, Obama raised more than $500 million online from more than 3 million donors. In 2012, he brought in more than $690 million online. Clinton will likely top both those numbers.
She's also borrowing some branding from Obama, who on Saturday said Clinton would make "an excellent" successor. The president's campaign committee was Obama for America. Clinton's is "Hillary for America."
Before it's here, it's on the Bloomberg Terminal.
LEARN MORE