GOP Hopefuls Ready for Hillary With Video and Tweet Attacks
A video war unfolded on Sunday, moments after Clinton announced her candidacy.
by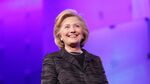 After Hillary Clinton kicked off her presidential campaign with a Web video Sunday, Republican candidates and possible candidates quickly answered back with videos of their own. 
Rick Santorum, a former senator from Pennsylvania who is considering a run, went with a much more produced trailer-like video complete with blips and bloops and Matrix-style lines of code. It accuses Clinton of making the U.S. vulnerable to cyber attacks through her use of private e-mail while she was secretary of state. 
Republican Senator from Texas Ted Cruz, who announced his candidacy last month, tweeted a video, co-opting the former name of the super-political action committee supporting Clinton:
In the video, Cruz says that "Hillary Clinton represents the failed policies of the past" and equates a Clinton presidency to a third term for President Barack Obama before making an appeal for donations. 
Former Florida Jeb Bush cut right to chase, tweeting out a link to the donor portal on his PAC's website.
Carly Fiorina posted a video to her Facebook page, saying, "After the famous reset with Russia, Russia is now a more powerful adversary than it was when she became secretary of state. Our relationship with Israel has deteriorated dramatically. The Middle East is in flames. And of course she has not been transparent."
Wisconsin Governor Scott Walker used Twitter to launch his attacks on the former Secretary of State. 
Kentucky Senator Rand Paul, who announced last week and who had been preemptively trolling Clinton all day Sunday, continued to plug his new website, called Liberty not Hillary. 
Before it's here, it's on the Bloomberg Terminal.
LEARN MORE