Bloomberg Politics National Poll: Rand Paul, Jeb Bush Face Primary Obstacles
There's good news for the Kentucky senator, though: More Republicans and independents say they'd consider supporting him than any other potential GOP candidate.
by and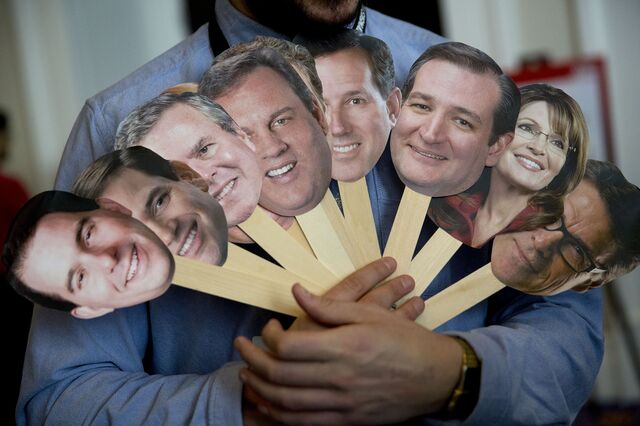 Republican presidential candidate Rand Paul may have a problem with women, and Jeb Bush already has been written off by a large share of potential primary voters, according to a new Bloomberg Politics national poll that underscores the wide-open nature of the race four months before the first primary debate. 
Just 11 percent of Republican and independent women in the poll said they'd seriously consider supporting Paul, a U.S. senator from Kentucky who announced his presidential bid last week, compared to 22 percent of men. No other Republican contender has a worse spread.
Among all Republicans and independents in the poll, 42 percent said they would never consider voting for Bush, a former Florida governor and brother and son to former presidents.
The news is not all bad for Paul, and in fact, when Republicans and independents were asked whom they would potentially consider supporting, Paul topped the field with 58 percent. At least 50 percent of those same voters said they'd also be willing to consider five other aspirants—former Arkansas Governor Mike Huckabee, former Texas Governor Rick Perry, Florida Senator Marco Rubio, Texas Senator Ted Cruz, and Bush—showing that the party has several visible, viable, and worthy candidates and signaling a potentially lengthy nomination battle.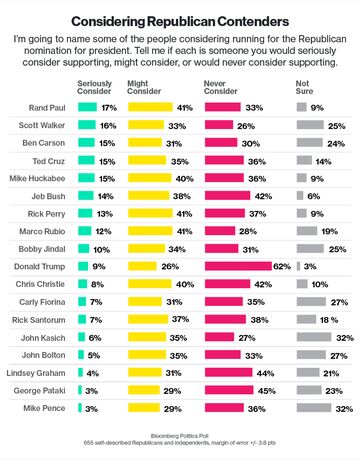 Paul, the son of former Representative Ron Paul, who ran his own presidential campaigns in 2008 and 2012, has some work to do among women. He opposes abortion, which may account for some of his difficulty. And since announcing his presidential campaign last week in Louisville, he has drawn attention after appearing combative in recent interviews with female journalists.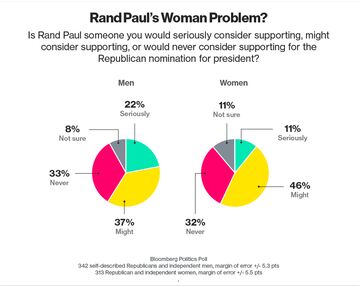 In a live interview earlier this year on CNBC, Paul shushed and scolded Kelly Evans in response to questions about his support for parents' choice on childhood vaccinations. He also bristled during an interview last week with Today co-host Savannah Guthrie, telling her that she was "editorializing" in the way she asked about his evolving foreign policies.
Paul has defended himself, saying he has been "testy" with reporters of both genders. And nearly half of Republican and independent women indicated that they might consider supporting Paul, indicating that he can solidify his standing with them.
"Rand Paul has a lot of really good foundational ideas, but I think he's a little bit radical," said Patsy Childers, a 76-year-old Republican from Oklahoma. "He's more, 'I'm going to do this and I don't care what anybody thinks about it because I think it's right.' That sort of attitude. He's kind of like [President Barack] Obama in that regard. I don't think he could work well with a lot of people." 
Bush's challenges with potential primary voters are well established. His support for easing immigration laws runs counter to the views held by many conservatives. He also backs Common Core academic standards, which have fueled fears within the party, while other presidential contenders have criticized them as akin to creating a national school board. Bush is also contending with voter anxiety about electing a third Bush president.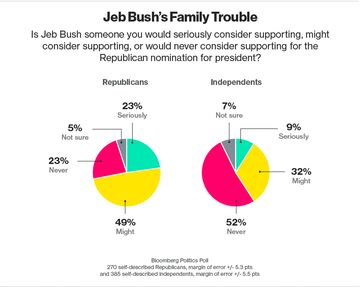 The new poll reveals the depth of that skepticism. Among the party's potential candidates who Republicans and independents say they'd never consider supporting, Bush and New Jersey Governor Chris Christie are on a similar level with longshot candidates such as former New York Governor George Pataki and U.S. Senator Lindsey Graham of South Carolina. Businessman and TV personality Donald Trump appears to have the lowest chance of winning the nomination, as 62 percent of Republicans and independents say they'd never consider voting for him.
"I didn't like him when his brother was first elected with Florida—I think that was definitely manipulated," said Barbara Livingston, a 62-year-old independent respondent in North Carolina, said about Bush. Bush was Florida governor in 2000 when his brother George's presidential race against Al Gore was decided by 537 votes in the state.
Bush does better among Republicans. Only about one in four say they'd never consider supporting him compared to 22 percent who said the same about Paul and 23 percent for Cruz. Among Republicans, 36 percent said they'd never consider supporting Christie, trailing only Pataki (45 percent) and Trump (55 percent).
"I don't want to see a repeat (of) Bush-Clinton," said poll respondent Virginia Davis, 65, from Indiana. "This is not totally fair to him, but I wasn't happy with George W. Bush at all."
Huckabee enjoyed particularly strong support when only Republicans were asked about candidates–25 percent they said they would "seriously consider" supporting him. Four others broke the 20 percent bar: Bush, at 23 percent; Cruz, 22 percent; Wisconsin Governor Scott Walker, 21 percent; and Paul, 20 percent.
The poll included independents in its assessment of potential presidential candidates because many states hold nominating contests in which all voters can participate, or all voters to change their registration on Election Day.
The poll also points to potential trouble for whomever emerges from the Republican field: More Americans say they have a favorable view of Congress, 34 percent, than any of party's top contenders. Still, many of those Republican contenders have room to grow. About one-third of Americans said they hadn't heard enough about Paul or Cruz, while 46 percent say the same about Rubio and 58 percent said they don't know enough about Walker to offer a rating.
The Republican Party as a whole is facing a significant favorability gap compared with Democrats. Among all voters, 38 percent said they have a favorable view of the Republican Party, while 53 percent said they had an unfavorable view. That compares to a 48-44 split for Democrats. 
The poll, was conducted April 6-8 by West Des Moines, Iowa-based Selzer & Co. It included interviews with 1,008 adults and has a margin of error of plus or minus 3.1 percentage points on the full sample. Read the full poll questions and methodology here.
Before it's here, it's on the Bloomberg Terminal.
LEARN MORE